Recap: 'America's Next Top Model'- Season 19, Episode 7, 'The Girl Who Licks The Floor'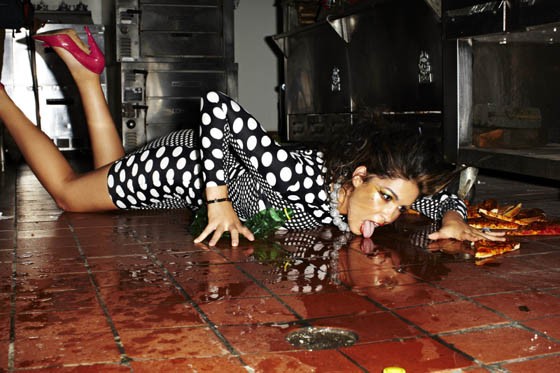 Episode 7, of America's Next Top Model:  College Edition, begins with Laura reflecting on her past week's winning photo challenge, and efforts to make a name for herself within the modeling industry on her own without the influence of her familial celebrity background.  As Laura makes her way to enjoy access to the "Tyra Suite" all to herself, collective worry starts to set in over Victoria's diminishing eating habits.  

BryanBoy and Nylon television host/designer Marissa Montgomery then visit to set up the new "challenge of the week," of a road trip to Palm Springs, where the models are spilt into two teams  to perform "random acts of modeling" while doing everyday things.  Laura, Kristin, Brittany, Allyssa make up team one, and Victoria, Kiara, and Nastasia are team two. The selected winner gets to host a segment on Nylon TV, and $10,000 towards their scholarship fund bank.  

The trip finds the models taking photographs, of themselves at three various pit-stops, and each recording their personal video message.  Terror sets in when Kiara thinks Victoria has erased her video recording, but the issue is quickly resolved when Kiara records another video.  Team one wins the challenge, and model Laura wins again making this challenge her second win.  

The girls, dirty from the "challenge of the week" activities, are however set up for the  photo challenge by creative photo shoot consultant Johnny Wujek so as to catch them feeling uncomfortable and off-guard for a "stank girl method modeling"photo shoot.  Douglas Friedman is the photographer of the week.  Victoria's literal and over-the-top take on "method modeling" leaves Wujek and Friedman jaw-dropped and speechless.  Poor Allyssa, who wants to step up her game this week, actually ends up licking a roach infested floor!  Her efforts end up null and void when model Nastasia ends up winning "photo of the week."

The contestants, now back at the "ANTM Sorority House," are left stunned beyond belief  at Victoria's hysterical phone call to her mother in a river of tears. Even Victoria's own mother seems stressed by Victoria's stress, and offers her a suggestion of leaving the competition.  This is followed by confrontation with the other contestants questioning her stability in continuing the competition.   The girls also take the opportunity to further air concerns about Victoria during panel to which she staunchly defends her position to Banks.  Banks decides that she will be under supervision and that any restrictions from this point will send her packing.  The last two standing models shockingly are Laura and Allyssa.  Allyssa is the one sent packing.

Is all the geographical separation, desperation for approval, and competitive stress worth the "pot of gold" at the end of the rainbow?  These are some of the ideas to seriously consider before considering a chance to be a model, on the America's Next Top Model competition, and a career in modeling!