Recap: 'America's Next Top Model (College Edition)'- Season 19, Episode 8, 'The Girl Who Comes Back'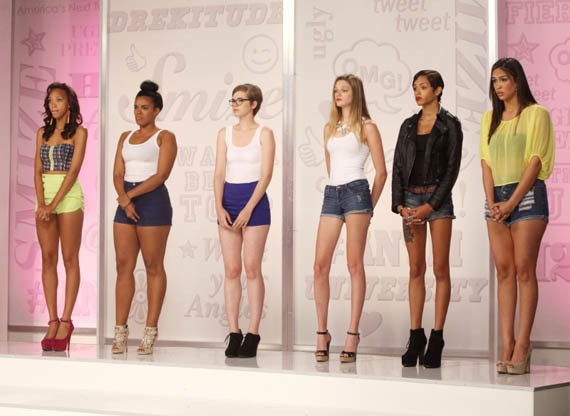 Episode 8, of America's Next Top Mode:  College Edition, begins with the models reflecting in awe Laura's bottom two position in the previous week's final panel.  The main focus this week centers on who will be the "come back" girl in the competition, and Victoria's situation where the girls again confront her with general with concerns of her stability in continuing the competition.   
"Tyra Mail" then leads to a visit to Smash Box Cosmetics, with PR maven Kelly Cutrone and LA Models' Woman's Division Agent Markus Barrington, for season's "go sees" challenge.  The models now set up in pairs are set off to book modeling jobs with Guess, Whitney Port, Cecilia Cassini, I♥Ronson, and Lulu Guinness.  Brittany & Kristin, Laura & Nastasia, and Victoria & Kiara make up the respective teamed pairs, and whichever model books the most jobs wins the challenge.  Tension of the week brews, between models Kiara and Victoria, as they compete to make an impression on fashion celebrity Whitney Port.  Surprisingly, all the girls make it back within the five hours allotted for the "go sees."  Cecilia Cassini books Kiara, Lulu Guinness books Nastasia, Charlotte Ronson books Kristin, and both Whitney Port and Guess book Laura making her this week's "challenge winner."  Brittany and Victoria booked 0 modeling gigs.  Laura's prize, a plethora of Guess clothing upon returning to the ANTM Sorority House, leave the girls salivating. 

P'trique, the Fashion "It" Girl, makes a cameo to set the girls up with hints for the photo challenge of the week. The models greet photo shoot creative consultant Johnny Wujek, on the location site of a prison site, for this week's "50's retro bad girl mug shots." Set up in efforts to bring awareness to college level student crime, the models go through the whole arrest/ booking process just to "get into" character.  Mark "Cobra Snake" Hunter is the guest photographer of the week.  Model Kiara is in a traumatic state before her photo shoot,  as the subject matter correlates to a real life petty theft experience from her conflicted past, because the challenge is hitting a little bit to close to home.  However, under Wujek's constructive guidance, her shoot turns out to be more of a therapeutic source of release.  Victoria again gives a one-of-a-kind and over-the-top in character photo shoot, even spitting for the photographer's camera, to Wujek and Hunter's amazement.  At the end Laura sits atop of the scoring board, again winning a "photo challenge" of the week, with Victoria and Brittany as the last two last standing models.  Though Brittany is the model scored out by low scores, as all the other eliminated models, she stands a chance to become ANTM's first "come  back" model.  

Victoria's "method modeling" has yet to be topped by another other contestant.  This girl has a career in acting ahead of her if modeling is just not in the works.  Another  hilarious moment is where Ronson comments that model Laura is "a little too big" for a collection, which is honestly so strange, when considering the girl looks like a size 0 model! The modeling industry just ain't  pretty honey!   This week's episode is a misnomer since the selected "come back" model, presented as a cliff hanger at the end of the show, is to be announced next week.