Recap: 'America's Next Top Model: College Edition'- Season 19, Episode 11, 'The Girl Who Freaks Out On Horseback'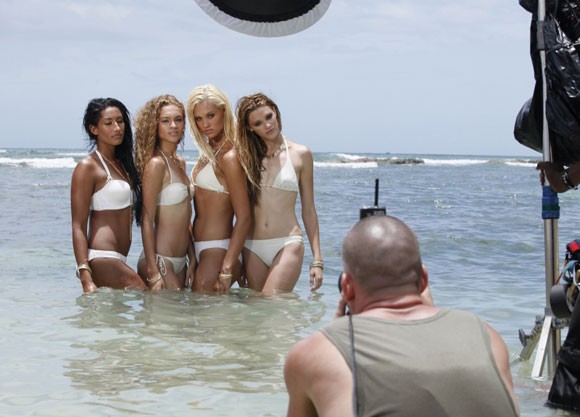 Episode 11 finds the remaining final four models, all in pensive states, reflecting over where each now find themselves in the competition.  Laura, who found herself in last week's bottom two from being a top ranking model, is especially marked by "down to the wire" stress.  Leila, as last week's challenge winner, decides to share access to the "Tyra Suite" with Kiara.  
The models meet up with supermodel Rob Evans, and Yendi Phillips the former Miss Jamaica Universe, for the "challenge of the week."  The models have to write their own fifteen second script dialogue to audition in a holiday destination commercial, while horseback riding on a beach, for a screening test.   The challenge winner, with the best script and delivery, will get to shoot a world-wide campaign for the Jamaican Tourist Board as well as $10,000 scholarship bank money.  Model Laura, who is familiar with horses, loves this challenge, while Leila's worry foreshadows her terrifying screen test performance of "freaking out on horseback."  The top two screen tests in the end were presented by Laura and Kiara.  Kiara was selected as the challenge winner.  
P'trique, the Fashion "It" Girl, delivers hints for the ANTM "Dream Come True" fragrance "photo challenge of the week."  The models meet up with Photo Shoot Creative Consultant Johnny Wujek, for a new challenge, where the models will shoot to be in the official dream come true ad campaign.  The winning ad selected will be used for a new "Dream Come True" ad campaign.   Photographer Jez Smith is on set as guest photographer of the week, and Hatch Beauty Creative Director Ben Bennett is added for more guided direction.  Kiara emphatically shares over and over how much the competition means to her and what winning would mean to her.  The shoot however finds Laura and Leila losing confidence.   Kiara, with a strong photo and scores, wins the challenge leaving Laura and Nastasia with the bottom two weakest photos.  Nastasia is the model voted out, for the final ANTM fashion show, making Laura the competition's third and final finalist after Leila. 
Banks' final fashion show, as "art" in modeling is a running theme on the show this season, will be a theatrical haute couture production.  Secondly, due to the increased panel tension between PR Maven Kelly Cutrone and supermodel Rob Evans makes us wonder if both will be mainstays next season.
Check out more photos from this episode