Rebel Wilson Thanks Nicole Kidman For Helping Her With Her Movie Career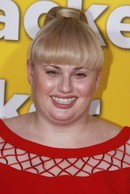 Actress Rebel Wilson is crediting Nicole Kidman with her successful movie career after the Hollywood star loaned her money to follow her acting dream.
 
The funnywoman, who stars in hit comedy Bridesmaids, trained at the Australian Theatre For Young People in Sydney, where the Moulin Rouge! actress also cut her teeth.

Kind-hearted Kidman, who later became a patron of the organization, gave Wilson a loan to allow her to train wherever she wanted - and she ended up studying in New York, where her career finally took off.

Wilson tells Women's Day magazine, "I joined the Australian Theatre For Young People where Nicole started out when she had all that crazy red hair. She saw me and gave me $12,000 as a kind of scholarship to go wherever I wanted."
 
"I went to study in New York and it changed my life forever. Then a few years later, Nicole gave me another $3,000 as a prize for winning the Best Actress award at the Tropfest short film festival in Sydney. She really has made a huge impact on my life.

"People say I have an incredible life and that everything that has happened to me is crazy. Actually when I think about it, I guess they're right!"