Rebecca Soni Breaks Her Own Day-Old World Record To Win Gold At Olympics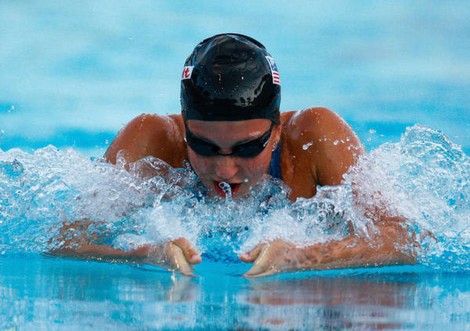 U.S. swimming star Rebecca Soni has broken the 200-meter breaststroke world record she set on Wednesday while qualifying for the Olympic final.

The Team U.S.A. co-captain became the first swimmer to break two minutes and 20 seconds as she shaved .01 seconds off her own record in the pool on Thursday.

Soni's gold is her second medal of the 2012 Olympic Games - she won silver in the 100-meter breaststroke earlier this week, continuing America's dominance of swimming events.

Minutes after Soni's victory, teammate Michael Phelps became the first male swimmer to win gold in the same event at three successive Games - he finished first in the 200 meter individual medley, as he did in Athens (2004) and Beijing (2008).

Phelps became the most decorated Olympian ever on Tuesday. He has now won 20 medals overall, with 16 golds.