Rebecca Romijn Shares Steamy Post-Pregnancy Weight-Loss Secret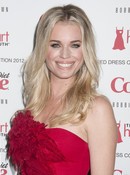 Model-turned-actress Rebecca Romijn has credited Bikram yoga for helping her get her shape back after becoming a mom to twin girls in 2010, revealing nothing else was working.

The X-Men star admits she was skeptical about signing up for steamy sessions - but when Pilates and diets failed her, she grabbed her mat and got down.

She tells Fitness magazine, "A friend suggested I try Bikram yoga. At first the idea of doing a 90-minute work-out in a 105-degree room sounded like torture. But the sweating is exactly what I became addicted to.

"My body changed dramatically, almost immediately. I'm stronger, I have more energy and I feel better, too. I was proud to get back into a bikini!"

Now, Romijn never misses one of her three-a-week yoga sessions, because they give her the energy she needs to be an active mom - and it's the one thing she can do that her actor husband Jerry O'Connell can't.

She explains, "Jerry is very show-offy when he's good at something, and he's pretty much good at everything. But he's been doing Bikram yoga for about a year now, and he isn't very flexible. I'm happy there's one thing I'm better at than he is."