Rebecca Da Costa: Getting To Know The Star Of 'Motel' And 'Breaking At The Edge'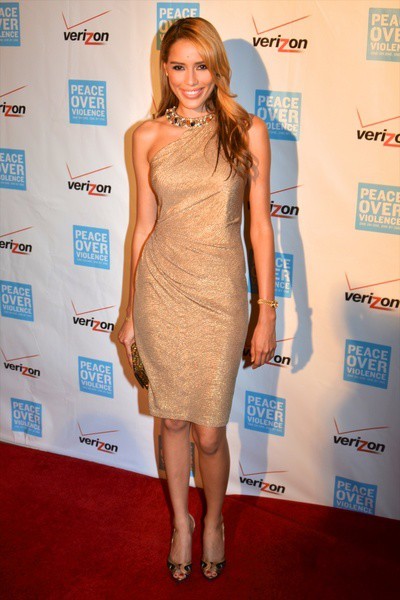 The future looks extremely bright for Rebecca Da Costa, the international actress and former model who recently wrapped two major films. She was discovered by Elite Models Management at the young age of fourteen and walked the runways for several designers, including Giorgio Armani and Hugo Boss. Throughout her modeling career Da Costa always knew she would get back into acting. She made her screen debut in the thriller, L.A. I Hate You, starring Malcolm McDowell and William Forsythe. I recently had the opportunity to speak with Da Costa to learn more about her background, her upcoming films and what it was really like to work with Val Kilmer, John Cusack and Robert De Niro.
Can you tell us what it was like growing up in Brazil?
I think I had the best household someone could have. The people, and not because I'm from there, are very warm. It's all about connecting to each other. I had such a great childhood; it wasn't video games and computers. They weren't that big in Brazil at the time so I used to play with the children on the streets a lot. It was just a great, great quality of life: great food and music. I had a great childhood.
You started modeling at fourteen. What was it like being an international model at such a young age?
My dream was always to travel so for me that was the way I found at the time to achieve my dream. I always loved people, so the most exciting thing was to go to different countries where I didn't speak the language by myself and then just live this adventure. It excited me. I lived in Europe for seven years, I lived in Asia and I lived in New York, so I've been everywhere. For me that was the best job at the time – just traveling and connecting with people. They were the experiences of life. I've been living by myself since I was 14 so you grow up really fast and you learn a lot about life.
Do you think that helped mature you or give you a push towards acting? Do you think it helped you out in the long run?
Definitely, definitely! I mean, I've met so many interesting people through this experience. Like I said, I went to Italy for the first time when I was sixteen and I didn't speak any Italian. I was living with two others but they spoke English and I didn't speak English as well. The only language I spoke was Portuguese and I was thinking like "Oh my God what am I going to do by myself here?" Then two weeks later I learned Italian. When you put yourself in that situation you must learn the language, you know? So it was just a great experience. That's where it came from, through interactions. I learned so much that helped me to connect.
What was your favorite place you've lived in or a place you've stayed for a long period of time?
Italy. I think Milan is the closest to my culture: the people, the food, the love, the passion. It's one of my favorite cities. I also love New York, it's one of the best places in the world. I like LA. I'm starting to like it even more now. It takes time to get used to it but, my, New York is just – that's where I connect.
What helped you to make the transition into acting? Do you think that modeling kind of inspired that? Did you always have a dream that you wanted to act?
Always, since I was a child. I used to do theatre in school in Brazil. I would write, direct and act in my own plays. I was very passionate about that. I was also passionate about traveling as well. I went to this modeling contest and I won in my city and it just happened for me to travel, so I kind of left acting for a bit, but I always knew that I would go back at some point. Then about three, three and a half years ago, I decided to sign for a course in New York at a studio, so that's when I went back. But I always knew I would go back. I always liked to write so I would write the whole time while I was modeling. I was always writing.
Your screen debut was in L.A. I Hate You. Were you nervous?
So nervous! I don't think I was ever that nervous in my life! The first scene in the movie was with William Forsythe and you know, he's very intimidating, just by his looks. So my first scene was with him. I was playing a waitress who was very mysterious. I was supposed to walk to his table and go up to him and ask what he wanted to drink. You know, small talk. I was so nervous my legs were shaking. But he was so sweet! The first take was the hardest to get out but he was so nice.
You just wrapped production on Motel. Can you tell us a little bit about the movie and your role in it?
Yes! So my character is a femme fatale. You don't know that much about her so throughout the movie the layers start to come off. She's hanging with these two bad guys and they threaten her life so she ends up going to the next room in the motel where Jack (played by John Cusack) is and I ask him to help me, to save me. So we kind of stick together throughout the movie and save each other's lives. There's a lot to her but I can't tell because throughout the movie you learn more about her and who she really is. You can't tell if what she's saying is real and you're not really sure about it, so there are all [of] these things that lead to the reveal.
What was it like working with John Cusack and Robert De Niro? Were you nervous or did you have a lot of fun?
It was amazing! No, I wasn't nervous because I prepared so much and worked so hard before we shot in New Orleans and I actually arrived in New Orleans two weeks before the picture started shooting. I met John about a week before and we went to dinner, to have drinks and we talked a lot before we actually started working together. And he's such a nice human being and he's so giving. We talked about everything and you know, they are like my idols. He made me feel so comfortable and we exchanged so many ideas that by the time I got to the set I wasn't nervous at all. The same goes for Robert [De Niro]; by the time [Robert] De Niro got on set we had went out for dinners and he was so sweet. He was telling me about the time he spent in Brazil and again, I was just so into that character, but I wasn't nervous. They're both amazing but very different. Two different people with two different techniques as well, so it was such a learning experience and I feel so blessed.
Your other film, Breaking at the Edge, will be in three major film festivals this year. What was it like working with that cast?
It was fantastic. It was a very hard role and I think I had no idea how hard it would be until I got there. I was playing this girl – she's bipolar, six months pregnant and then she stops taking her medication because there's a small chance it can harm the baby. A very small chance, like 4%. So she stops taking her medication and she has a bipolar crisis and becomes a little schizophrenic. It was very, very tough and energy draining. Milo Ventimiglia is playing my husband and I couldn't have asked for a better partner. This man is amazing, so sweet and he helps me so much. Andie MacDowell was great as well. She was just super sweet. So yeah, very lucky!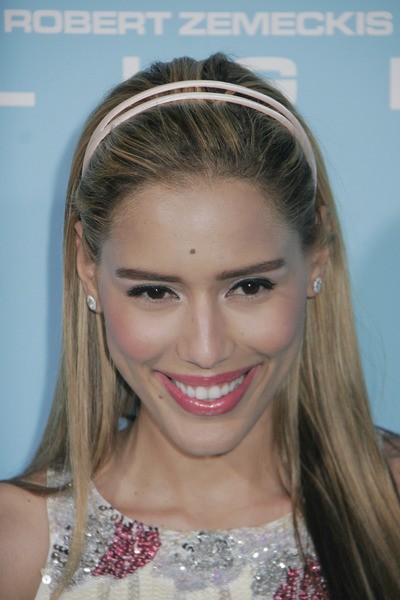 You've worked with so many big names already, is there an actor or actress you'd really love to work with in the future?
Yes. Daniel Day Lewis, of course. I'm just intrigued by the work that he does. It's just pure art. To work with someone like that, I think brings everything to a different level so I would love to work with him. As for a woman of course Meryl Streep. They are both two people I'd love to work with.
What was the best acting advice or any kind of advice you've received throughout your career?
I think John Cusack. We talked a lot and he talked about how important it is to be real and to be honest. Whatever you make it, the most important thing is our connection. So we were looking at each other every time before every scene. We would look into each other's eyes for like 30-40 seconds before shooting the scene just to get the energy going. That's important and something I'm going to carry on for my career; just making that energy and connection real.
On a lighter note, do you have any funny stories from your experiences on set? Did you ever have an embarrassing moment or have something really funny happen to you?
Yes! I did this movie last year – Seven Below with Val Kilmer – and we were shooting in Cincinnati. A crowd came to the event and his first scene in the movie would be with me. We were shooting at a gas station so I was already freaked out because I loved him! I used to watch his movies back in Brazil and I was like the biggest fan of Val. He gets to set and there were like thousands of people watching us, trying to get an autograph from him and I'm like shaking. I kept thinking, "I can't believe I'm working with Val Kilmer!" I was just so excited. When we were doing our scene I totally forgot the scene. You know when everything just goes blank? I couldn't remember my lines. So yeah, he decided to improvise. Thank God I was with him because the scene turned out great. When they yelled cut everyone was screaming and laughing and that's the take they used for the movie! Can you believe it? It started out as an embarrassing moment but it turned out to be a great moment.
Besides acting, which I know takes up a lot of your time, what else do you like to do in your spare time? What are your interests?
I love to dance. Right now I'm doing a lot of meditation and there is a place in LA called Lake Shrine; I love to go to that place. It's just so peaceful. I also love to read so anytime I have free time I try to read but right now it's very hard because I've been working a lot.
What's your favorite movie?
The Scent of a Woman with Al Pacino is one of my favorite movies ever. I'm a big fan of Al [Pacino] as well. As far as recent movies, I loved Les Misérables. The movie was fantastic. It just had so much soul. I loved it.
I know that you've been all over the world and shared so many experiences living in different countries. Do you have a favorite vacation spot or a favorite place that you love to go?
My country, of course. There are two places in my country that are unbelievable, one being Rio. It's one of the most beautiful cities I have ever seen in my life. You know how you go to Europe and it's beautiful and has amazing architecture? Rio has a natural beauty. As soon as you land at the airport you see those mountains and it's unbelievable. Secondly, my hometown, Recife. It's beautiful, beachy and there's surfing. Apart from Brazil, the south of France is great as well. I love the beach though. I'm more of a beach person.
What do you think helps you stay humble and grounded in this industry?
My mother was such an amazing woman and she always said to me it doesn't matter what you achieve in life, always respect everyone like you want to be respected. So as long as your nice with me I'm going to be nice with you. I think here my main goal in life is to become a better person. It doesn't matter what I do. I want to be an actress, but more than that I want to be a good human being. That's what I try to remind myself everyday. I'm here to share things with the world and to learn.
You talked a lot about writing and being creative. Would you ever consider writing screenplays?
I think so, yes. I'm writing a book right now but yes, definitely. I'd love to write a screenplay or a movie.
It seems like 2013 has been such a great year for you so far. What else are you looking forward to this year?
I can't wait for the movies to be out! We work so hard to make these things happen and they're all so different, all the roles that I play. I just can't wait for them to come out and to see how people are going to respond to them and if they're going to be touched by them. Of course I'm looking for new adventures and new projects, but I'm excited for reactions to the movies.
Breaking at the Edge will premiere at 3 film festivals in April, starting with the Palm Beach International Film Festival April 4-11, 2013.