Rebecca Black's 'Friday' Hits 100 Million Views On YouTube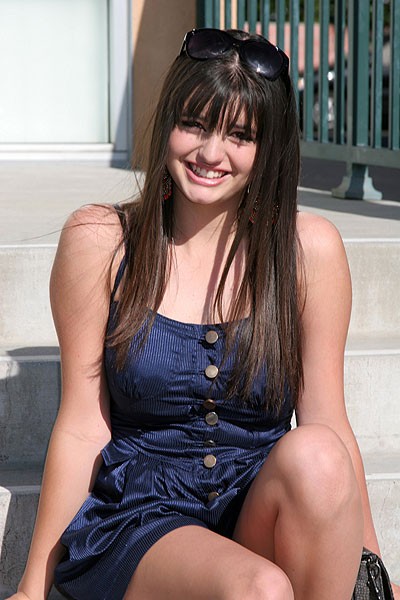 A little over two months ago, Rebecca Black's life was like that of any other normal American 13 year old girl:  attending junior high school, hanging out with friends, going to the mall.  But this week, after a little more than two months since its debut, Rebecca's hit single "Friday" smashed the 100 million view barrier on YouTube, making the clip the 23rd most watched music video of all time on the site, and turning Rebecca's normal routine into a whirlwind of national television appearances, recording sessions and photo shoots.
The most viewed video of all time on YouTube is "Baby" by Justin Bieber, who can count Ms. Black as one of his biggest fans. But Rebecca's "Friday" which broke through the 100 Million view barrier after just 63 days is already outpacing the Bieber track which took 67 days to reach the lofty milestone.
"Friday" has also turned Rebecca into a star who is recognized everywhere she goes, which is understandable considering the hit song is the Number Two most discussed clip on YouTube, surpassed by only, you guessed it, "Baby."  But like many "overnight sensations," Rebecca's road to fame didn't really come overnight. 
The honor student has been singing publicly since the age of 9, attending music camps in the summers, performing for school shows, studying dance and working hard to realize her dream of becoming a singer.  And in late 2010 her dreams would begin to come true after her mother enlisted a local Los Angeles production company, Ark Music Factory, to record a song and music video for Rebecca.
The music video, which was uploaded to YouTube on February 10th, was a truly homemade production, with many of the scenes shot in the Black's home, and, yes, the friends in the videos are Rebecca's real friends.  As the clip began to grow on the site, national news organizations came calling and Rebecca found herself sitting across from Jay Leno on the Tonight Show and being interviewed on Good Morning America.
And while the song has had some detractors, there are more than a few powerful music industry luminaries in Rebecca Black's corner. Ryan Seacrest and Simon Cowell are big supporters.  Jonas Brothers recently sung "Friday" in concert, as did Justin Bieber.  Even pop superstar Lady Gaga is behind the young singer declaring recently in an interview that "Rebecca Black is a genius."
And while "Friday" continues to attract fans in countries all over the world, Rebecca is spending her spring break from school working hard in a Los Angeles recording studio and expects to have more music out soon.  Until then Rebecca is enjoying the ride, juggling her new found fame with her studies and chores around the house, living as normal a life as is possible for a teenager with one of the top music videos of all time.