Rebecca Black's 'Friday' Becoming A Smash Hit - But For All The Wrong Reasons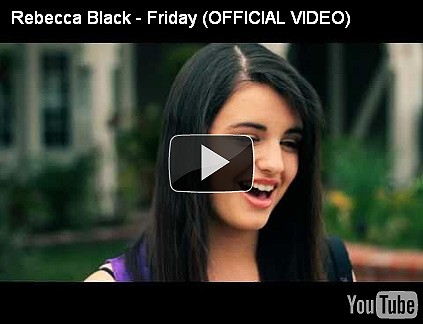 Rebecca Black, a 13-year-old from Orange County, CA, has become an overnight sensation thanks to the music video for her song "Friday," which she filmed and posted on YouTube. The video has been tearing up the the internet and already has a whopping 13 million views and counting.

The downside? The song is terrible; and the majority of the millions of plays it's gotten are from people wanting to see just how bad it is (you can see for yourself below).

The song has met with harsh criticism from both social media and in the mainstream; with sites like Yahoo asking if it's "the worst song ever," and Time magazine's website condemning it to "a whole new level of bad." Adding insult to injury (if that's even possible now) Time also calls it a "train wreck."
And the two biggest music-based publications - Rolling Stone and Billboard - had strong words also. Rolling Stone called it an "unintentional parody of modern pop"; while Billboard scathed, "From the singing straight out of Auto-Tuned hell... and a hilariously bad rap about passing school buses, 'Friday' is something that simply must be seen and heard to be fully appreciated." Ouch.

Rebecca, an eighth grader whose parents financed the recording and the production of her video, recently spoke to website The Daily Beast about the backlash over the song.

"Those hurtful comments really shocked me," she said. "At times, it feels like I'm being cyberbullied."

The song, about teenagers anticipating the weekend and spending time with friends, wasn't even written by Rebecca. In fact, it was part of a package deal her mother paid $2000 to the Ark Music Factory, a small record company in Los Angeles, to produce. After the budding singer passed a casting call she was given the choice between "Friday" and another song, which she felt wasn't relative to her own personality.

"The other song was about adult love–I haven't experienced that yet," she says.

The company also helped her market her video on YouTube; and after all the negativity the thought of pulling the video did cross her mind. But Rebecca is standing strong and not giving in to "the haters." (We imagine the paycheck after 13 million YouTube views also had something to do with not taking the video down from the site.)
The song is even available on iTunes now.


Check out Rebecca's video below and let us know what you think by dropping us a comment!