Reba McEntire To Star In TV Series 'Malibu Country'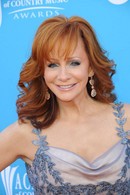 Country music star Reba McEntire is heading back to the small screen after signing up to front a new sitcom.

The veteran star previously appeared in her own show, Reba, which ended in 2007 after six years on air.

McEntire, who has also acted on Broadway, has now signed up for a new sitcom called Malibu Country, about a divorced woman who splits from her cheating husband and moves to Malibu, California from Nashville, Tennessee to revive her singing career.

She says in a statement released to CountryWeekly.com, "I know you've all been asking, and I can confirm that the rumors are true. We had our meeting yesterday with the folks at ABC and we now have a pilot with ABC!  That means we will shoot the pilot next April and if everything goes like we hope it will, we'll be shooting a sitcom called Malibu Country next August! Wooohooooo!
 
"I'm so excited about doing another TV sitcom! I miss the Reba show so much so it will be great to get back into the TV world again!"