Reba McEntire Marks 21st Anniversary Of Band's Plane Crash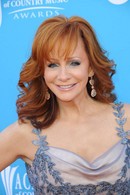 Country star Reba McEntire was in a sombre mood on Friday as she remembered her bandmembers who died in a plane crash exactly 21 years ago.

The singer was left devastated when an aircraft carrying seven members of her backing band and her tour manager crashed shortly after take-off in San Diego, California in 1991.

She recently opened up about the tragedy in a TV interview with Oprah Winfrey, choking back tears as she admitted she is still haunted by the memories of the accident.

She said, "I'm sorry, it's been 20 years... I don't guess (sic) it ever quits hurting... But I just can imagine... all the band we lost, the pilots, their family, I lost friends - they lost family members."

And McEntire took some time to reflect on the plane crash again on Friday.

In a post on Twitter.com, she writes, "This is the 21st anniversary of the plane crash. My thoughts are staying on great memories of those who have gone on before us. Sure do miss you guys. Still."