Reality TV Roundup: Stephanie Pratt Leaving Hills And Lots More Drama

Sorry about the delay readers but here is the quickest recap from last week's debauchery in reality TV.
First let's start with the premiere week on MTV featuring the
Real World Road Rules Challenge: The Ruins
. For the first time in two seasons nobody was kicked off the first episode for fighting! An accomplishment reached because fan favorite C.T. is not on this season's cast and although I think it is silly he is not on the cast, I am sure they begged him to be on the show.
A love pentagon involving Wes, Kenny, Johanna, Cohutta, and KellyAnne, which already made things very interesting, marks this season. Wes and Kenny hate each other but Wes' entire team (the champions) hates him too and he will be trying to throw every event until he is eliminated. Fun stuff!
For some reason, I expect to see Wes in the finale and there is a lot of drama on this season's RW/RR Challenge and I really want you to watch the immortality with me (Wednesday 9PM CST MTV).
Also premiering this week on MTV was their cash cow
The Hills
(Tuesday MTV 9PM CST).
Kristin Cavalleri
returned to MTV's spotlight and she did not disappoint. Since everyone is friends again, Heidi and Spencer invited everyone to a post wedding party but not everyone trusts Kristen, espesically Audrina.
Audrina knows Cavallari's old tricks and even calls her a boyfriend stealer, and after a few drinks at the party tensions start to flare up when Audrina over hears Cavallari talking smack behind her back.
Cavallari starts dropping all kinds of F bombs, which was hysterical but makes poor Audrina cry. I am not sure why Audrina is crying but I think she knows Kristen will be taking her XBF Justin very shortly.
The best part of the show (other than getting the opportunity to look at Brody's GF
Jayde Nicole
) was when Speidi went house hunting and found a house with a nursery, or an empty bedroom as Spencer called it. It seems a theme of this season will be Heidi wanting a baby and Spencer not wanting one.
If we learned anything from this week it is Spencer's way or the lame way as he bought a house without asking his wife. Dummy!
Hell's Kitchen
(7PM CST FOX Monday) started off so well this season but as the season has carried on my opinion has switched. I do not dread watching Hell's Kitchen because Chef Ramsay is an entertaining chap but the cooks are terrible and incompetent and they are lifeless. With the exception of Tennille, who I find extremely annoying, the chef's aren't very skilled and I want my friend to try out next season because I think she is better than these chumps.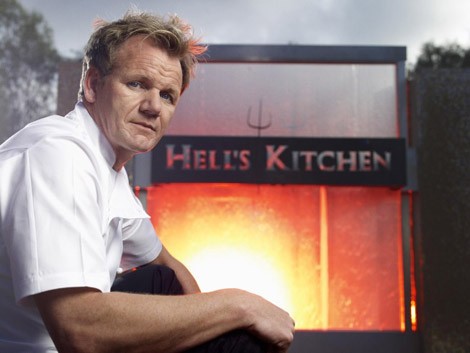 Image © Fox Broadcasting
Anyways, last week Suzanne was finally voted off as she has been dead weight for at least a month and I am very surprised she made it this far. In fact, I have no idea how she made it this far. These chefs are boring, lacking skills, but I will still watch it to the end for my readers!
For the first time all season I watched
Real Housewives of Atlanta
(Thursday 9PM CST Bravo). I am very loyal to my
Orange County Housewives
so I typically stay away from the other housewives shows but even though I do not watch the ATL women, I feel like I have not missed anything.
It turns out NeNe and Kim still hate each other and Kim still wears a badass wig. She is still involved with Big Poppa and this week Big Poppa finally proposed to Kim!
(Crickets) Wait … Big Poppa is already married. So who is the home wrecker in this one?
Also this week Kim through a party, which all the girls except NeNe attended, to help launch her single "Tardy to the Party" and admitted it was a lot more work than she thought.
It is also Kandi's big night as she performed but Kim did not show and Lisa says that is a typical Kim move. She uses people for her own benefit and then drops them when she does not need them, like what she did to NeNe.
Rehab: Party at the Hard Rock Hotel
(TruTV 9PM CST Tuesday)
My favorite new server Danielle is training with her (faux) friend Mallory. At first Mallory made snide comments behind Danielle's back but Mal saw what I saw in Danielle and the two became fast friends after hanging out all day. By the end of the episode they were taking body shots with each other, which Matt has already busted Mallory for. This week they did not get in trouble for body shots, phew!
Mallory is a wild one and her new partner in crime should make things interesting.
Matt put Julia on final warning for being over weight. Silly move by my namesake, Julia looks good.
I think a few events of this season were staged including a silly fight last week and this week a patron was so happy her wallet was found she offered herself to Deebo. D politely declined the offer but it all seemed contrived. I can see through your reality TV BS!
Flipping Out
(Tuesday Bravo 9PM CST) is a much calmer show than most typical reality shows but Jeff, the star, always finds a way to make things interesting. Jeff has had a lot of problems with his former business and life partner Ryan. Ryan has been making deals behind Jeff's back and this week Jeff finally confronts Ryan. I am with Jeff on this and it is time for him to move on with life without Ryan.
Americas Next Top Model
(Wednesday The CW 7PM CST) has been diluted so badly this season they are including shortys. None of the models are above 5'7' and the talent pool is not very deep. This week the models ran a product placement race and Sundai (one of my favs) won the race and she won a $1,000 gift card to Giant Store. This week Tyra was the guest photographer and Bianca (finally) got voted off. I would write more about this show but there is nothing to write about. The producers need to step their game up otherwise this show will be history in a year.
Project Runway
(Thursday 9PM CST Lifetime)
Who's with me on this: PR has not been the same since it changed networks. I think we all can agree with that and this week Louise was voted out. (See last sentence of ANTM).
The Rachel Zoe Project
(Monday 9PM CST Bravo) has turned into must watch TV for me and it is all about Rachel, Brad, and Taylor (and sometimes Rodger). This week Rachel was diagnosed with Vertigo and please excuse me for being rude but it was hilarious. Brad and Taylor were worried about her health but Brad also asked if it was a designer version of Vertigo called Vertizoe. Hilarious.
Every time Rachel would explain what she had it was like she had no idea what it was but just kept saying how sick she was and literally felt like dying.
"Literally … I feel like dying." This time she was being serious and it was still so funny.
Rachel hates being confrontational and while sick she delegates Taylor to make a decision about who is going to Paris Fashion week, her or Brad. Taylor lets Brad go to Paris and that is another example why I love Tay.
Reality bites:
This will reportedly be the last season for
Stephanie Pratt
on
The Hills
.
The ex fiancé of Kandi on
ATL Housewives was killed last week
in a strip club brawl.
Story by
Matt Anaya
Starpulse contributing writer
Twitter.com/shmattshmanaya