Reality TV Roundup: 'Real Housewives Of Orange County' Is Back & More

With the
Real Housewives of OC
returning,
The Hills
heating up, and the Ruins coming down to the end this was a solid week of reality TV.
Boy did
The Hills
(9PM CST MTV Tuesday) heat up. While walking on the beach with Kristin we find out Jayde and Brody are "on a break" which makes me so mad at my man Brody. Why would anyone break up with Jayde, she is a cool girl and one of the best-looking girls in the world? And like Lo said, "He will never get another Playboy Bunny."
Brody needs to stay away from Kristin because she wants to steal him from Jayde and if you ask me, Kristin has major insecurities.
Possibly one of the best scenes in this season came this week as Aurdina and Kristin finally talked at Heidi's birthday party. The girls started talking but once the name Justin was brought up things took an ugly turn.
Kristin said Justin told her that Audrina and Justin were never together, which is a total lie. Those two dated for well over three years and this is another instant where Kristin has odd insecurities about herself where she tries to make others feel bad.
Audrina laughed at Kristin when she said her and Justin never dated and dropped a bomb when she told Kristin she and Justin got drinks. Visibly upset Kristin gulped and started dropping F bombs while Aurdina laughed. The two ended the conversation and Audrina left the party as Kristin played it "cool" although heart broken by the news about Justin.
At the end of the episode Kristin broke things off with Justin and next week Kristin starts a fight with Jayde, as Brody is her next object of affection. She is out of control.
My favorite show of all time,
The Real Housewives of Orange County
(Thursday Bravo 9PM CST) premiered and things are different with the ladies. Most of them are not friends and most of them really do not like each other.
Tamra and Gretchen despise each other as Tamra thinks Gretchen is a gold digger and Gretchen thinks Tamra has been spreading malicious rumors about her. Both statements are true and those two are not the only ones that hate each other. Sadly, Jeana and Vicki had a falling out.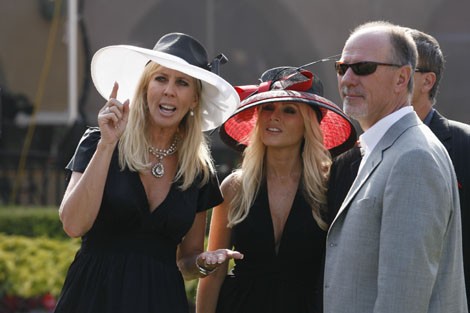 Image © NBC Universal, Inc.
Jeana has been struggling at work as her income has shrunk by two-thirds because the real estate market is currently dreadful. Jeana asked Vicki for some money and Vicki said no and the two have not spoken in six weeks. Jeana had a major reality check as her money is down and she now has to think before making a purchase, an idea she is struggling with.
Tamra and Simon are having troubles in their relationships as they are stressed out since Simon is also struggling at work. It looks like by the end of the season they will be headed to divorce, which will be fun to watch.
Gretchen is now dating fan favorite Slade. It did not take long for Gretchen to find new love and she keeps saying Jeff, her recently deceased fiancé, brought her Slade. That is her excuse for dating so quickly after losing Jeff. Good one Gretchen.
Vicki and Don (love that guy) have settled all their differences from last season and look great together. I was so happy to see these two getting along because I love the kids and I love Don and I did not want to see anything bad happen to them. If anything bad was going to happen it would be Vicki's fault and I thought she was going to screw everything up, but she did not and I am grateful.
Spacegirl Lynne is now selling cuffs, or something like that. She is pretty useless and brings no drama to the table as most of the ladies like her. She really is a space girl and it is nice to see her daughters growing up and the drama comes later in the season as she and her husband's house is foreclosed. Looking forward to that and the rest of the season.
Million Dollar Listing
(Monday Bravo 9PM CST) has been a snooze fest all season long and this week was no different. Madison's abilities were questioned by a client but does make the client happy at the end of the day. Madison needs to be replaced by someone with a personality.
Josh failed miserably this week, which was a blast to watch, as he tried extremely hard to swoon a rancher from Montana. The rancher owns a lot of land in LA and wants a Malibu property with lots of land. Josh shows him the perfect estate but he ultimately fails with extravagant horses, champagne, and chocolates. I think he forgot these are ranchers, not celebrities, and all they care about is the land, not the puffery.
Chad should have his own reality show and it should have nothing to do with real estate and all to do with his lifestyle/antics. He is very intense and surprisingly has a hot GF, but she is only in it for the lavish lifestyle. If he ever loses that, she gone! Chad sold a lease this episode … Zzzzz.
Tabatha's Salon Takeover
(Tuesday 9PM CST Bravo) went as smoothly as it usually does, not very, as the season premiere opened in Chicago at the salon I go to, yes I am a male and yes, I love my hair.
The typical stuff happened as Tabatha poured product down the drains, she fired a young lady (who was immediately re-hired), and she made blunt remarks to the stylists. It is a very entertaining show even though the same stuff happens all the time.
The Ruins
(MTV 9PM CST Wednesday) lacked drama this week but it was still mildly exciting as the Challengers are making a comeback. The Champs goal was to get Veronica off their team and they accomplished that as she lost to KellyAnne in the Ruins.
The Challengers shockingly swept the elimination round for a second straight week as Cohutta took out Syrus who was thrown under the bus by his teammates. Cohutta is now the fattest calf as his bank account is the richest.
Next week should be an interesting one as the finale nears and friends will become enemies.
I snuck in a
Project Runway
(Thursday 9PM CST Lifetime) episode for the fans, please do not tell my lady! Anyways, the show is down to five contestants and I actually think they are all deserving, unlike you know who.
To make a long story short, Irina, Carol Hannah, and Althea will be in the season finale and compete at Fashion Week. Thankfully, Christopher was asked to go home. I thought he was going to win it all just because I despise that dude.
America's Next Top Model
(7PM CST CW Wednesday) is down to the final five and the competition is finally heating up. I hope your first week pick is still in the running because mine is!
Erin and Sundai have been struggling the last weeks and both are dead weight. For some reason I have always liked Sundai and thought Erin should have been eliminated weeks ago. It makes me mad that shows do not do more double or triple eliminations, it would speed up the process but I also understand you need to make 10 episodes.
I digress, Erin and Sundai are picked as the last two, meaning Nicole, my week 1 pick to win, is still dominating. Sundai is told to go home even though her performance was better than Erin's the last couple weeks. It was an odd pick and I think Sundai grew on people's nerves and this goes to show all reality show contestants, don't make the bosses mad.
I hope you all enjoyed this week in reality and I look forward to your questions, comments, concerns, and next week's reality review!
Story by
Matt Anaya