Reality TV Roundup: Jeana Leaves 'Housewives,' Typical 'Hills' Drama & More

This week in reality TV featured one of the wildest RR/RW Challenge episodes of all time, a champion was crowned on this season's
America's Next Top Model
, and Jeana leaves
The Real Housewives of Orange County
.
Million Dollar Listing
(Monday Bravo 9PM CST) has gone nowhere this season. I used to be a fan of these drama queens but there really has not been much drama between Chad, Madison, and Josh.
They all dislike each other so much that they stay away from each other, which makes for dull reality TV. These producers should know by now, drama creates viewership and there is very little drama on "Million Dollar Listing." If they want to keep the viewers they should put them in a room together for 15 minutes; then we will start to have some fun!
Madison leased a house, Chad did not record a sale, and it turns out Josh does not have a brain tumor; he was just being dramatic. Thanks Josh for at least trying to help this show out.
The Hills
(Tuesday MTV 9PM CST) is trying their hardest to stay relevant but their ideas are running thin. Kristin and Brody are also "trying their hardest" to rekindle an old flame but things are not as easy as they were when they were in high school.
Jayde still wants Brody and I do not understand why he is not interested in her. I say it every week: Jayde is one of the best-looking girls in the world and Kristen is not, to say the least.
Jayde and Kristen meet to try and smooth things over but the lack of maturity on both sides prevails and the two end up fighting instead. Jayde tells Kristin she and Brody are getting back together and KC does not believe it. Sorry sister, it is true, you were apart of a game Brody was playing.
Spencer still does not want kids for the life of him. He is very adamant about not having children and this might end up being the downfall of their "marriage." How do you go into a marriage without discussing this beforehand?
Audrina is done with Justin and KC is sick of being in a love triangle. At the end of the episode KC and her roomie Stacie start to pack for Vegas. I wish life were really this easy.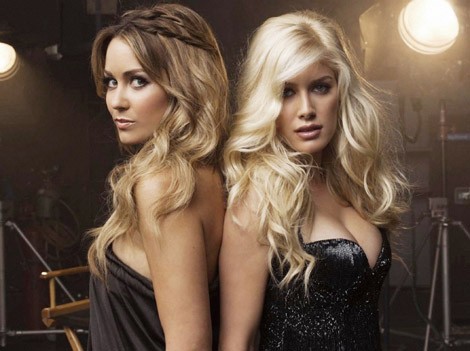 Image © Viacom International Inc. All Rights Reserved.
Oh man did things get crazy in Thailand for the
Real World/Road Rules Challenge
(Wednesday MTV 9PM CST). Things have been relatively quite this season especially now that we have nearly reached the end but a birthday party involving alcohol sparked a frightening fight between two friends.
Brad and Darrell have been friends for a long time and this week was KellyAnne's 23rd birthday, so both teams decided to have some fun. Like I said, it has been a quiet season so far with drinking and fighting but Darrell and Brad had too much fun.
Brad has been experiencing nightmares throughout the season and was very stressed out since he had no money and little help from his teammates this season. He drank way too much and started to pick a fight with his friend Darrell who has the most money and was guaranteed a spot in the championship round.
Brad got too close to Darrell, shoved him, and Darrell, a personal trainer/boxer, landed five haymakers on Brad's face. Brad was toast, his eye had a golf ball on it, and he had to do the last confessional with his right eye completely shut.
Both players were kicked off, and for Darrell, it was a $30K mistake. The champs obviously won the challenge event and Susie picked Kim to face in the Ruins. Bananas picked Dunbar and we did not get to see what happened as the show was to be continued next week.
It was a sad day for me on Thursday night as we saw Jeana Keough leave
The Real Housewives of Orange County
(Thursday Bravo 9PM CST). She was an original member of the show and she and her children, not her husband, will be missed.
This week we found out that Slade and Gretchen are super serious. Like, they are talking kids and being in love; gag me. Jeana said she likes Slade, who is the ultimate douche, but if he is cool with Jeana then Slade is cool with me.
Turns out Slade has lost most of his money, and although I would not call him humble, he has calmed down since his days with Jo (who I miss dearly) but that silly beard and those goofy shades still made me queasy.
Jeana and Vicki finally talk to each other and somewhat clear the air. While watching this scene I felt like it was Tuesday night on MTV (The Hills) but there was not any fists thrown or swearing at each other. Vicki and Jeana thankfully acted like adults but still made snide comments towards one another. In an interview after the show, Jeana said the two are back to being great friends and have plans on taking a trip to NYC in the near future. Phew!
Tamra and Simon continue to struggle with their relationship and it seems Tamra's oldest son is apart of the problem. Stressed out from work Simon takes his frustrations out on Tamra next week.
The economic crisis creamed Lynne's family and they decided to downsize. It has been especially tough on her husband and the children but Lynne has admirably kept her head held high. Her business, which I called fake a few weeks ago, is thriving and keeping the family afloat, and while known as an air head, Lynne has proven everyone wrong, including yours truly.
Nicole was my pick to win this season's
America's Next Top Model
a few months back and it turns out I nailed it as Nicole was the butt of a few jokes early in the season but who is laughing now. This is the first time I have ever hit the right answer, I have been close a few times but I have never hit it and I am very proud of a fellow ginger.
Story by
Matt Anaya
Starpulse contributing writer
Twitter.com/shmattshmanaya