Reality TV Roundup: Fashion Week, Boring 'Model,' & More

The week in reality TV: Rachel Zoe went to Paris Fashion week and it was obviously bah-na-nas. Audrina ditched a lunch date with Kristen, uh oh, major drama.
America's Next Top Model
remains a snoozer, and Wes on MTV's The Ruins might need to relax a little.
The Rachel Zoe Project
(Mondays on Bravo) continues to be one of our favorite reality TV shows, and possibly the best show on TV. But this week was rather boring as Rachel went to Paris Fashion week with Brad instead of Taylor.
We all know the story behind Brad going and Taylor not and obviously Taylor begrudgingly let Brad go and she does not want to talk about it anymore. What's done is done and Taylor is moving on with her life.
Fashion week was rather boring for the viewers, Rachel talked to a few of her designer heroes and Brad followed her around for the show's entirety. Rachel also took a tour of Coco Chanel's house, which was also boring but "on another level," and Taylor took care of the home store while Rachel and Brad were in Paris.
Boring episode and next week is the season finale.
Americas Next Top Model
(Wednesday on the CW) is starting to get really tough to watch. It is much easier for me to watch off my DVR so I can fast forward anything. Whether it is the constant beauty commercials or Tyra's rants, it does not matter, the FFW button has become my friend for this show.
The girls broke up into groups of three and were asked to perform a dance that expressed four emotions while wearing masks. The goal was to teach the shortys how to express emotion with their bodies, kind of like smizing with your body.
Britney, Rae, and Jennifer win the competition securing their place in the next round and the elimination was between Kara and Ashley. Although the judges like Kara they feel she needs to work harder at modeling, but they keep her and eliminate Ashley.
The Hills
(Tuesdays on MTV) has gotten off to a promising start with
Kristin Cavallari
instigating a gossip catfight between her and Audrina. This week Kristin felt badly about how she treated Audinra last week and shoots her a text asking her out to lunch to reconcile.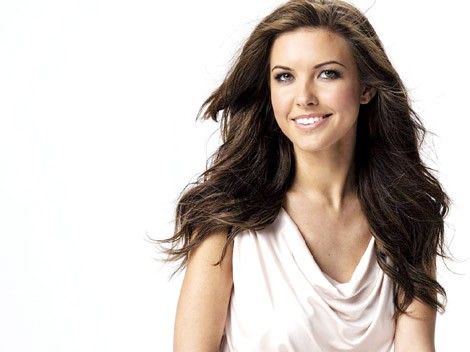 Although Audrina thinks Kristin is sorry she blows the lunch off, because she is a bad ass, and Kristin took it personally:
"You mess with me, I miss with you."
I think Audrina wants to stay away from any sort of Justin Bobby conversation and Kristin will not avoid that topic, and that is why she bailed on the lunch. Kristin and Justin both agree they just want to have fun, which means they are both attracted to each other and that is it.
Spencer Pratt
bought a mansion in the mountains (without
Heidi
's permission), which he thought was child proof but it turns out the neighbors have a child living with them. Heidi loves babysitting and has no problems with little Enzo coming over any time he wants to but problem is Spencer hates kids.
Spencer came home while Heidi was babysitting Enzo and basically threw Enzo out within a minute of seeing him playing on his Wii.
Spencer explained, "I can barely be around adults. That's why I'm not hanging out with kids." It seems Spencer is really irresponsible and immature and until that changed, he is not having a child. It also seems Spencer runs the marriage and Heidi will only take that for a few more years.
Real World/Road Rules Challenge: The Ruins
(Wednesday on MTV) was a great episode and although this week was a little boring that did not mean there was not some drama involved. The Champions won the challenge event which means they got to pick the elimination round matchups.
They immediately picked Wes vs Nick, which was a beat down (Nick eliminated. Thanks for playing, you killed it, now pack your stuff (T.J. Lavin voice)) but matching the girls up created mass chaos.
I hope you can follow this: Both teams were in on the fix and did not tell Wes, Evelyn, and Wes' GF KellyAnne. The fix was the champions would pick Evelyn to face her best friend and Wes GF KellyAnne, which would upset Wes, and he would start playing fairly.
Wes has been trying to throw all the missions because he hates every single one of his teammates.
Well the plan worked … kind of. The champions got their wish and pitted KellyAnne vs. Evelyn but Evelyn was very upset her team would stab her in the back again (like they did on The Island) and basically quit on the elimination match.
Nick and Evelyn, thanks for playing. Wes is still there and is a maniac, but that is a quality you need to win these things.
I have now watched
The Real Housewives of Atlanta
(Thursdays on Bravo) two weeks in a row and I hope Jeana and the OC girls do not think I have turned my back on them. Please don't worry (OC) girls, I will always be yours!
Anyways, this week Kim apologized to Kandi for not showing up at her party (truly tardy to the party) and Kandi begrudgingly accepted Kim's apology. In between NeNe setting up a high heel race for a charity benefiting domestically abused women she is also desperately trying to find her biological father.
In other ATL news, Lisa's husband Ed has officially retired from the NFL. You think 31 years old is too young to retire, but not in the NFL and Ed's knee is shot. Lisa also received a pregnancy scare but the test came back negative. Phew!
Hell's Kitchen
(Tuesday on Fox) has been a snoozer all season long but I still think it is better than
Top Chef
. Bravo is known for their cast of reality characters but that show lacks entertainment, I mean how fun can food (by itself) be?
That is where Chef
Gordon Ramsay
makes the difference. He brings zest and zeal to what would be a boring show and this week he was no different as he was making demands, going on verbal tirades, and throwing tantrums all in the name of culinary perfection.
This week the chefs had to make a vegetarian dish at 80 portions and they did not know these dishes would be for children. Tennille wins her first challenge and gets a makeover and the opportunity to eat at Nobu in LA, which is one of the best Sushi restaurants in the world.
Although Tennille won she has been inconsistent with her skills and it cost her this week at the dinner service. Dave can barely take the pain in his wrist and he needs surgery ASAP, but he is not eliminated this week.
All the chefs struggled through this week's service but Tennille's bass and scallops were poorly cooked and she was eliminated hours after receiving high praise from Ramsay. I was kind of shocked and thought Dave should go home because he literally has one arm.
Next week is the season finale with back-to-back episodes.
It was another day at
Rehab: Party at the Hard Rock Hotel
(Tuesday on TruTV) It was Julia's birthday and some creepy greasy male strippers were at the pool for her entertainment. Let me speak for everyone in the world when I say male strippers are major eww.
For some reason Julia did not invite my new favorite server Danielle to her B-Day bash and Danielle being the super nice and super ditsy Playboy bunny she is did not take it to seriously and went back to work as Julia's trainee for the day.
Matt suspended Mallory because she verbally abused a coworker the night before but it was not on camera which is a total bummer because I would have loved to see the immature Mallory go off on this girl, I bet it was quite the scene.
For the past few weeks I have noticed a few scenes that were completely scripted and this week it involved a server serving her ex boyfriend. Grace (server) had to serve her ex (douche) boyfriend and did so professionally throughout the day even though he was flaunting his new love interest in her face. At the end of the day the douche tried to get Grace back (WTF?!) in front of his new girl and the new girl dumped a bucket of ice on him.
So lame and scripted. Dear TruTV, please let me put together a script for you. Hint: This is Vegas and my script might involve midget strippers. That would be wild.
While on suspension Mallory spent the day getting a massage and drinking, Chantel got the male strippers for Julia (eww), Danielle quit Rehab and can be seen dealing blackjack at the Playboy casino, and Jessica is putting together a Rehab Girls Calendar, let me be the first to say, "thanks but no thanks."
Reality Bites:
There will be a "Real Housewives of D.C." and filming begins in 2010.
Jeff and Ryan did not make up on "
Flipping Out
" and life is different for both. I love Jeff, he cracks me up and I would gladly give Ryan the cold shoulder for how he treated Jeff.
With the cast combination of Rachel, Brad, and Taylor and sometimes Rodger, "The Rachel Zoe" project has become the best show on TV.
Epperson was eliminated on
Project Runway
. He was very respectful on his way out and is a true professional.
"Million Dollar Listing" premieres Monday night on Bravo.
Remember, debauchery makes great reality TV.
Story by
Matt Anaya
Starpulse contributing writer
Twitter.com/shmattshmanaya