Reality TV Highlights, Jan. 30-Feb. 5: Intentional Weight Gains Plague 'Biggest Loser'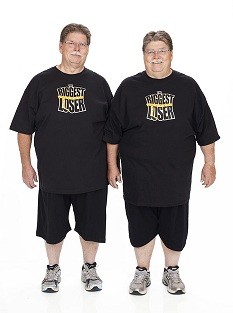 Dan and Don Evans - brothers who were eliminated from "The Biggest Loser: Couples 4" after gaining weight
Intentional weight gains plagued "The Biggest Loser: Couples 4" this week, annoying viewers and making trainers think twice about certain players' desires to truly lose weight and get healthy.
It was no surprise that Bob and Jillian were upset when Dan and Irene each gained weight on purpose, although Jillian's stone silence was surprising and a little scary, but viewers upset over the circus the season is becoming could lead people to give up on this season's contestants, as we usually don't anticipate so much strategy and game play on a weight loss show.
Top reality TV highlights from the week of Jan. 30, 2011:
The Bachelor
Ashley Spivey became the first season 15 victim of the dreaded "Bachelor" two-on-one date, when she was eliminated during dinner on Monday's episode. Brad felt Ashley S. wasn't the wife for him, and while Ashley held strong during her walk to the car, she broke down in tears once inside the limo. Ashley wasn't the only bachelorette eliminated this week, though. At the rose ceremony, Brad sent two more bachelorettes packing, although it wasn't either one who caused this week's drama. Drama for the week came from Alli and Michelle, although Alli's drama was a little more understandable. After Brad pulled Emily aside for the second or third time on the group date, Alli started to get upset, claiming she wasn't feeling special. Michelle's drama, on the other hand, was totally uncalled for and a complete spectical. After pulling Brad aside during the group date and talking negative about the other women, Michelle pulled Brad aside during the rose ceremony cocktail party and continued to put down the other woman … of course, that was after she banned Brad from speaking during their conversation. To find out which bachelorette did survive the two-on-one date and which two bachelorettes were eliminated at the rose ceremony, click here. And to read the comment Ashley S. believes sent her home, click here for my interview with the eliminated bachelorette.
Biggest Loser: Couples 4
"The Biggest Loser" was hard to watch this week. Viewers look at "Biggest Loser" as one of the only reality shows where the contestants keep their integretity and never hit below the belt, no matter what the drama in the house may be; "The Biggest Loser" is rarely a circus. Unfortunately, the first half of Tuesday's episode was nothing but a sideshow. Dan Evans was ready to go home and was ready to do anything to make that happen – including intentionally gaining weight. It would not have been so bad, though, if his part Irene hadn't agreed to also do anything to send him home. Granted, she was working in the best interest of her team and her partner, but she was not thinking of her best interest when she intentionally gained six pounds. Trainer Jillian Michaels was speechless, while trainer Bob Harper came down hard on Dan, who truly insulted the tens of thousands of people who would kill to be on "The Biggest Loser," perhaps some who needed to be there more than him. It was nice that Dan was honest about his weight gain, and it was nice to see he did succeed at home, but the way that it was gone about was unbearable, and viewers can only hope that now that Dan and his brother Don are gone the circus will cease to exist. Along with Dan's elimination, the Unknowns were forced to eliminate their first player; click here to find out who went home.
Live to Dance
Kendall Glover, the young dancer who captured America's hearts and the judges' hearts, on the season premiere of "Live to Dance" was named the final act to advance to the season one finals on Wednesday's live episode. To find out who Kendall is competing against in the finals, click here.
Jersey Shore
 We saw them make up. We saw them smiling. We saw them party together like it was season one. But that was last week, and this is this week, and this week we saw another explosive argument between Ronnie and Sam, an argument that lasted all day and all night and appears to spill over into next week's episode. Everything was fine until the women left a mess in the kitchen. When they returned home from shopping the men made a few snide comments about the mess, but they seemed to be more annoyed than actually angry … except for Ron, who make a snarky comment to Sam. Sam played princess, which made Ronnie even more angry, and he eventually walked away with no plans of talking to her in the near future. The lack of talking continued until finally Sammie said, 'Maybe we should just break up.' Well, that set everyone off. It looks like we will have to wait until next week to see the true outcome of Sammie's break-up comment, as Ronnie seems to be holding most of it right now, but suffice it to say, it's going to be huge!
The Real Housewives of Beverly Hills
The big stories from the "The Real Housewives of Beverly Hills" reunion part two were the aftermath of Kyle and Kim's fight and the story behind Lisa and Cedric's falling out. While Kyle and Kim were less than forthcoming about what happened the night of Taylor's party (featured on the season finale), refusing to talk about Kim's alleged drinking and problem, and only saying that they are slowly rebuilding their relationship, Lisa was more than forthcoming about what happened between her and Cedric, who appeared via a segment taped prior to the reunion to explain his side of the story. Apparently, one day Cedric just decided he had enough of Lisa and her family and was ready to move out. Lisa said Cedric then requested a meeting with her and her husband where he demanded he get what he was owed (presumably a large sum of money) or he would sell "his story" (whatever that may be). Lisa told viewers that she was learned many new things about her former BFF since their split, including that he does have contact with his family. Lisa's husband told viewers that he still doesn't know how he didn't hit Cedric after Cedric told him he hated Lisa and her children. According to the other housewives, namely Kyle, they had warned Lisa that Cedric was only using Lisa for a meal ticket and his 15 minutes of fame, but she admits she was blinded by their friendship of more than 15 years. Cedric's side of the story is a little different and much calmer: he was tired of being Lisa's beck-and-call boy and tired of listening to her go on and on about her posh life. He told viewers he is now pursuing acting … no surprise there based on Lisa's accusations. 
Bonus:
ABC announced the "Dancing with the Stars" season 12 premiere  date: March 21, 2011.
CW named the 14 aspiring models who will compete for a modeling contract, a Vogue Italia spread and a contract with CoverGirl Cosmetics on "America's Next Top Model" cycle 16. Click here to meet the models.
BRAVO announced the premiere date for "The Real Housewives of Miami" and introduced the world to the show's cast, which includes two NBA wives and the "Cuban Barbie." Click here to meet the Miami women.
 "Glee" kicks off the February premiere list with its post-Super Bowl episode; click here to find out what other shows premiere this month!
For more TV recaps, news and interviews, follow Amanda on Twitter  and click Subscribe at the top of this page