Reality TV Highlights, Jan. 2-8, 2011: 'Jersey Shore' Returns With Snooki x 2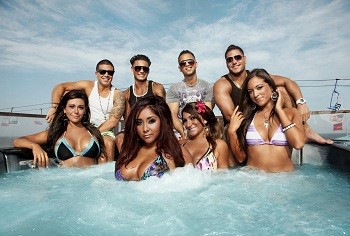 "Jersey Shore" returned this week with Snooki x 2. You hear me right; as if Nicole "Snooki" Polizzi wasn't already too much to handle, this season she has brought her BFF Deena Nicole Cortese, who not only looks a little like Snooki (not so orange, though) but acts just like the explosive, juicehead-chasing reality TV star. And while most of the roommates welcomed Deena with open arms, Sammi Giancola made it pretty obvious that she was not interested in adding to the so-called family, especially not if it meant having someone else in the house to hate on her.
Also, viewers watched reality TV premieres from "The Bachelor," "The Biggest Loser" and "Live to Dance," along with the return of "The Real Housewives of Beverly Hills," which had been on a holiday break.
Winter 2011 TV schedule  + TV premiere schedule for Jan. 9-15, 2011
Top reality TV highlights from the week of Jan. 2, 2011:
The Bachelor
Brad Womack returned to his old "Bachelor" stomping grounds this week when season 15 of "The Bachelor" premiered with Brad as the season's star. Unfortunately for ABC, not everyone was excited about Brad's return. According to TVbytheNumbers.com, the season 15 premiere was the  second least watched premiere in the show's history. Bummer for Brad! It was also a bummer for Brad when he was forced to drag up his past with the show over and over and over again during the first mixer of the season; the women wanted to know everything, and it took over most of the competitions. It wasn't until Brad sat down with Ashley S. that he got to hear about something other than the pain he caused DeAnna Pappas and Jenni Croft four years ago, so it was no surprise that she received the first impression rose. By the end of the night, 19 other women had received roses. To find out which women were sent packing and to read about Brad's reunion with his former Final 2 DeAnna and Jenni, click this link.
Biggest Loser: Couples 4
"The Biggest Loser: Couples 4" premiered Tuesday with two new trainers making their presence known and one heartbreaking elimination. Now, before you freak out at the thought of a season without trainers extraordinaire Bob Harper and Jillian Michaels, let me put your mind at ease: Bob and Jillian have not left the show! Instead, the show has decided to add two new trainers to the mix. Unfortunately for viewers, we still don't know who those trainers are. All we know is that they are working 10 of the 21 remaining contestants to the bone! After the contestants had their first run in with the BL scale, they competed in their first challenge. The teams then chose if they wanted to work with the mystery trainers or Bob and Jillian. But, 'why would anyone choose unknown trainers versus Bob and Jillian?', you may be asking … because if they opted to work with the unknowns, they were given four weeks of immunity; that's right, four weeks! To find out which contestants are working with the mystery trainers, plus who was sent home at the first elimination ceremony, click this link.
Live to Dance
Paula Abdul is back! She returned to television this week with the premiere of her new reality competition "Live to Dance,"  which is turning out to be a much bigger hit than anyone anticipated. For all of you who want to write this show off immediately, for whatever reason, I urge you to give this show a mere 30 minutes of your Wednesday night because the talent this show features is out of this world! The show features dancers of all ages from across the country competing for a $500,000 prize. On Tuesday's premiere, hundreds of acts performed for judges Paula Abdul, Kimberly Wyatt and Travis Payne, hoping to make it into the Top 18. On Wednesday, 17 of the Top 18 acts were named; America's votes will decide no. 18. Tune in next week when no. 18 is announced and six of the 18 acts compete for three spots in the live finale. To find out which three acts are vying for the 18th spot and to find out which 17 acts are already through to the semi-finals, click this link.
Jersey Shore
Miami might have been beautiful, but there is nothing like the "Jersey Shore" returning to its hometown of Seaside Heights, N.J. On Thursday's season premiere, the roommates moved back into their home away from home, this time with a little extra baggage, which took all of about four hours to come out. It all started with little Deena, Snooki's BFF from home and the newest roommate. She may be tiny, but she is feisty, and after a few cocktails and the realization that maybe Sammi wasn't as thrilled as the other roommates to have her around, an intoxicated Deena let loose, calling Sammi a few things that I refuse to repeat here. Ronnie stood up for Sammi; Snooki stood up for Deena; and in the end it was J-Woww and Sammi who had their fists in the air --- just another night at the Jersey shore. Tune in next week for the continuation of Sammi and J-Woww's brawl …
The Real Housewives of Beverly Hills
Kyle and Camille had use clutching the sides of our seats again this week when the pair invited one another to events at each of their homes. Although the two have made up – sort of – the tension in the air when these two are together is still so thick. Shockingly, both events went really well. There were a few moments when we thought things were going to go in a negative direction (the first: Adrienne's husband asked about the pair's issues while at Camille's tennis party; and the second: At Kyle's white party, Camille gave Kyle a book titled "How to Behave and Why"), yet everyone kept their cool; you could tell that things weren't 100 percent OK, but no one lashed out for events that never happened, so we can safely call both events a success. Now, this doesn't mean there wasn't anything negative happening this week. This week, viewers started to see the truth behind Taylor's marriage and saw the possibility that Taylor might start standing up for herself a little more. At Kyle's party, Taylor nearly broke down to Kyle when Russell, Taylor's husband, decided he was going to leave the party early because he wasn't having a good time. Taylor wasn't ready to leave and felt her husband was ruining her ability to have a good time, so Taylor decided to stay behind. Unfortunately, she didn't appear to stay very long after her husband left because the event was weighing on her so heavily. Tune in next week when we see Camille and Kelsey's marriage break down after Kelsey tells Camille he no longer wants to be married to her.
Bonus:
2011 People's Choice Awards
The 2011 People's Choice Awards took place on Wednesday, and the Kardashians and Rachael Ray were the reality TV winners for the year. Rachael Ray earned the award for Favorite TV Chef, while "Keeping Up with the Kardashians" took home the award for Favorite TV Guilty Pleasure, beating out "Jersey Shore," which appeared to be the favorite going in. As for non-reality TV winners, "House" and its leads were the top earner for the night, taking home Favorite TV Drama, Favorite TV Doctor, Favorite TV Drama Actor, and Favorite TV Drama Actress. To read the complete list of 2011 PCA TV winners, click this link.
For more TV recaps, news and interviews, follow Amanda on Twitter