Reality TV highlights, Jan. 16-22, 2011: 'Real Housewives' Sisters Scream It Out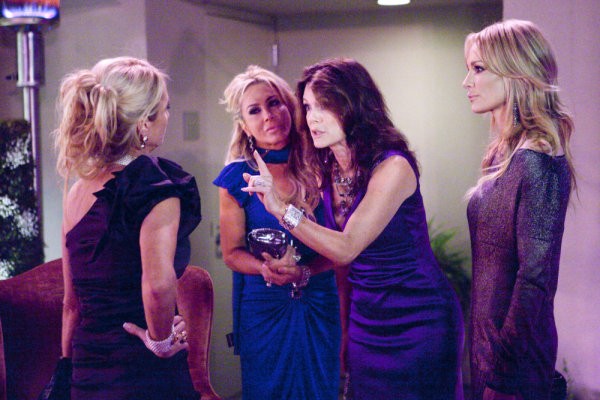 Women from "The Real Housewives of Beverly Hills" - Kim, Adrienne, Lisa and Taylor - battle it out on the season one finale (BRAVO)
"Real Housewives of Beverly Hills" sisters Kyle and Kim had it out with one another on the season one finale Thursday, in a fight that appeared to be the culmination of millions of emotions that have been pushing each one's breaking point all season.
Winter 2011 TV Schedule  + Jan. 23-29 TV Premieres
While Kim and Kyle for the fight entrée, the chaotic dish of disaster actually started when Taylor confronted Kim about not standing up for Kyle during the Kyle-Camille New York incident. Lisa had suggested Taylor talk to Kim if Taylor felt Kim started the issues in NYC, and it seemed that Taylor had good intentions to get to the bottom of things, but Kim became incredibly defensive, claiming that she was the only one who came to her sister's defense that night – completely untrue! That's when Kyle called "Bulls**t" on her sister, thus beginning the ultimate fight of the season.
After Kyle put Kim in her place, Kim left the birthday party with which the women were attending (Taylor's birthday party). She felt attacked, and she felt that, as usual in her opinion, the other women – Lisa and Taylor, namely – were stirring up trouble. Kim ended up crying to Martin (yes, that Martin) and Adrienne in her limo. Eventually, Kyle went after her, but when she tried to sit down with her Kim said, "I don't want her that close to me. I cannot trust you." This – and a few other mixed words – completely set Kyle off, so much that she announced that Kim was an alcoholic – which apparently was a huge family secret – and she (Kyle) and her family would no longer be supporting her and her issues.
Reality TV highlights for the week of Jan. 16, 2011:
The Bachelor
There is always one bachelorette that opts out before the final rose, but it doesn't usually happen so soon; I suppose there is a first for everything, though. This week – week three of the season – Madison Garton, the girl known for her fangs, decided it was time to leave. Her decision came after hearing the tragic past of Emily Maynard, which made her think that maybe she wasn't on the show for the right reasons. Madison left mid-rose ceremony, which left very little time for Brad to convince her to stay. Other highlights from the week included: Brad learning about Emily's past; Chantal opening up about her daddy issues; Michelle nearing the deep end of the crazy pool; and Brad sending two more bachelorettes packing. To read Emily's story and to find out which two bachelorettes were sent home, click here.
The Biggest Loser: Couples 4
"The Biggest Loser" has seen some serious gains in its time, but I'm not sure any of them have brought out such vocal disappointment and upset from trainers Bob Harper and Jillian Michaels. This week, Dan and Don Evans each gained nine pounds, and both Bob and Jillian were quick to call out the pair for deliberately sabotaging themselves and giving up on the process. Dan, the brother who was ultimately sent home, claimed over and over again that neither of the brothers deliberately gained weight, and there was another contestant who was willing to back him up, but the proof seemed on the scale. To find out how much weight each of the other contestants lost, click here.
Live to Dance
D'Angelo & Amanda and White Tree Fine Art were the second and third act to advance to the "Live to Dance" season one finals. At the beginning of Wednesday's live episode, D'Angelo & Amanda were announced as last week's America's Choice act, while White Tree Fine Art was chosen as this week's Judge's Choice after performing against five other acts vying for a spot in the finals. Those five acts are now part of the America's Choice vote for week two, and the winner will be announced on next Wednesday's live episode, which is the last semi-finals episode. To find out who the five acts vying for America's votes are, click here.
American Idol
"American Idol" season 10 premiered this week, and it didn't take long for people to realize that this season might just be the new life that Idol has been searching for since Paula Abdul left the show in 2009. Steven Tyler and Jennifer Lopez were surprisingly a hit with viewers based on the massive amount of positive Internet chatter that has been going on since Wednesday's premiere. And for those of you who are skeptical about Idol without Simon Cowell, I urge you to put skeptics aside and give the show a chance. So, who is the new Simon? Click here  to find out!
Jersey Shore
"Free Snookie! Free Snookie! Free Snookie!" That was the song the roommates were singing as they drove to the local jail to pick Snookie up after being arrested for drunk and disorderly conduct. It all started when Snookie felt that 9 a.m. was the perfect time to start drinking, especially after drinking all night the night before. The roommates have been making semi-sarcastic comments here and there about Snookie's drinking all season, but it really came to a heads this week. Snookie began drinking during her shift at the T-shirt shop, when she snuck out to take shots with an older couple at a nearby bar. After work, Snookie continued bar hopping. She met up with Jenni and Deena, who noticed that she was getting out of control and tried to take her home. Instead, Snookie ran off to the beach, where she stumbled face first into the sand several times. The cops picked her up no long after that, and by the next day, Snookie was swearing sobriety. Whether that will last or not, it is too soon to tell. Thursday's episode (MTV aired a new episode on Monday and Thursday this week) also featured Jenni breaking things off with her back-home boyfriend Tom after spending a few days and nights with her ex Roger. Tom didn't take the break up well, which forced Jenni to take a trip home to make sure that her dogs were safe. Fortunately, her dogs were OK, but unfortunately, certain things – her computer hard drive and a watch that was a graduation gift – were missing from the home.
The Real Housewives of Beverly Hills
Along with Kim and Kyle's cage match, Camille talked a little more about her impending divorce on the first season finale of RHOBH. Camille – in conversations with her best friend and with viewers – explained how she wanted to make things work but things were too awkward. Viewers saw Camille learn – sort of – about her husband's mistress when she told the doorman at her New York City apartment who she was and he didn't believe her because she wasn't the woman living in the apartment. Viewers saw Camille break down about the fact that Kelsey barely acknowledged her at the Tony Awards and refused to answer any questions asked by the press about his family, children or marriage. Check back next week for details from the "Real Housewives of Beverly Hills" season one reunion special, part one.
Bonus:
CBS revealed the identities of the former teams who will compete on this season's "The Amazing Race," which has appropriately been titled Unfinished Business. Click here  to find out if your favorite team from the past will be returning for a second shot at the million-dollar prize.
"Glee" and "Boardwalk Empire" were the big TV winners at the 2011 Golden Globe Awards Sunday. "Glee" took home the most awards, including best comedy or musical and best supporting actress (Jane Lynch) and actor (Chris Colfer). To read the complete list of TV winners, plus read an excerpt from Chris Colfer's incredible acceptance speech, click here.
If you are a top-notch swimmer and are willing to test the waters with a few sharks, then Discovery Channel might just have the perfect job for you. This year, Discovery is looking for a Chief Shark Officer who will attend 2011 Shark Week premieres and show he or she has no fear when up against some of the world's most ferocious creatures. For more information, and to find out how to apply, click here.
As mentioned above, Madison Garton left "The Bachelor" season 15 in the middle of the third rose ceremony, and three days after her exit was aired she took some time to talk with me and other reporters about her reasons for leaving and her regrets about going on the show. To read the complete interview, which includes a little fang talk, click here.
For more TV recaps, news and interviews, follow Amanda on Twitter  and click Subscribe at the top of this page