Reality Star Suing 'Entourage' Creator Over Kevin Dillon Character Plotline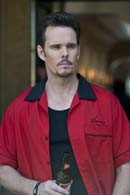 An MTV reality star has filed suit against Entourage creator Doug Ellin over allegations of copyright infringement surrounding a character portrayed by actor Kevin Dillon.

Dillon played struggling actor Johnny Drama on the hit HBO series, in which his character signed up to voice a gorilla cartoon called Johnny's Bananas.

The name of the animated show landed TV bosses in trouble with former The Real World star Johnny Devananzio, who claims to own the rights to his nickname Johnny Bananas. His lawyer issued a cease and desist letter to network executives in August, demanding they pull episodes of Entourage from broadcast or face "judicial intervention."

HBO chiefs ignored the warning and aired the eighth and final season of Entourage as planned until it wrapped for good last month, prompting Devananzio to follow through with his threat to sue, according to The Hollywood Reporter.

He has named executives from HBO and its parent company Time Warner as defendants in the lawsuit alongside Ellin, claiming he has "undergone tremendous emotional distress that has been intentionally inflicted upon plaintiff by defendants' unwarranted, unauthorized, and unjustified use of plaintiff's name and characterization in an offensive and disparaging manner."