Reality Roundup: 'Jon & Kate,' 'Hell's Kitchen' & More

Although Reality TV is supposed to be real it is actually intended to help people escape reality and laugh at other people's misadventures. The trashier the concept the better the show, except some of those VH1 shows are obnoxious.
I am more about shows like "
The Real World
," "My Big Fat Obnoxious Fiance," or my new favorite show "Rehab: Party at the Hard Rock Hotel."
If you missed any of your favorite reality shows last week, I am here to give a short synopsis of what went down:
Everyone's favorite family, the Gosselins, had some fun as they split time with the kids. Douche bag, er excuse me, Jon got to spend quality time with his daughters around the house and the adorable Kate got to take the boys to a real life dude ranch.
The boys loved every second of the dude ranch and even dressed up as little cowboys for a day. Needless to say but OMG, so adorable. They rode ATVs and Kate was very happy to be away from the paparazzi that ruined her relationship with Jon.
Jon played dress up which was totally awesome and a rare moment where I felt Jon was thinking of others instead of himself. He (the producers) organized a scavenger hunt, which all the little girls loved and it looked like Jon accomplished something positive.
It is Oscar time for Rachel and she is in charge for
Anne Hathaway
's Oscar attire. This season Rachel is super stressed because Oscar time is coinciding with Fashion Week and Valentine's Day.
Typically V Day takes a back seat to work but this time Rachel and her husband Rodger, or babe as she routinely calls him, take the day to rekindle their romantic flame.
Rachel's assistant Taylor is growing tired of not being promoted and not being able to go to Fashion Week. She goes home in the middle of Fashion Week and as you can expect Rachel is not happy.
As the week comes to a close Anne Hathaway's dress is not ready and they only have a day or so left. Find out what happens next week!
Rehab: Party at the Hard Rock Hotel (Tuesday TruTV 9 p.m. CST)
As I mentioned this is my new favorite TV show. I watched a little bit last season and was very excited to watch more debauchery and douche baggery.
For the sixth straight year Rehab got a new GM. It is Matthew's turn and he is all business as he fired two people and almost a third on the opening day but because of him, or so he thinks, they broke records for sales that day.
Eric, a partygoer, was recently dumped by his girlfriend and he made it his objective for the day to find a woman. His friends, or boys as they keep saying, keep trying to facilitate the operation but Eric has found his lady without their help. He thinks he has found the prettiest and smartest girl at the pool but it turns out she is a transgender.
The moment he found out she was a former he made my day. Eric did not care she was formerly a he and continued to show her affection. Great moment, I hope all is working out well between Eric and his new lady ;).
Snoop Dogg
showed up to help kick off the party season and in between fights in the pool and servers taking body shots nothing really happened. JK it's Vegas, this show is an hour packed of reality TV heaven.
Next week: Someone gets fired!
This week started off with a blind taste challenge that the girls won rather easily. The ladies have been on a roll and the guys' team is starting to get frustrated. Although the girls have been winning there has been some contention between teammates and they lost the next competition due to the animosity amongst teammates. Most of the ladies want Suzanne gone but Ramsay picks Amanda saying, "She's a sweet girl but sweet girls don't make good chefs."
Next week: Chef Gordon Ramsay turns up the heat and someone goes to the hospital.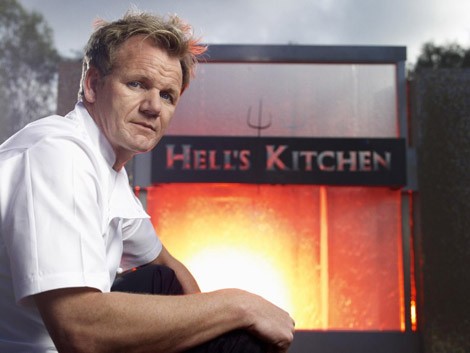 Image © Fox Broadcasting
This week Luke got to spend some alone time with the ladies. He took Tali Go Carting, which was fun for both. Tali has been shy but she got wild on the racetrack which Luke was very happy to see. Luke has been reluctant about getting serious with Tali because they do not share similar cultures but she made the cut.
Mandy is falling in love with Luke and she cannot handle him dating the other girls. She is quite the head case but is very cute and sincere and does not want to get hurt while playing this game. Mandy also made the cut.
Malissa is a good match but I think Luke just thinks she is cute. You can see it in his eyes he is thinking to himself, "I really want to have sex with her, but I am on this show for a relationship. Right?" Malissa makes the cut, only because she is cute.
Anna is a plus sized model and very flirtatious. Luke likes the attention but she has a very busy schedule and Luke wants to settle down. She gets eliminated which is fine because she was lame.
Next week: Going to Hawaii!
Another fantastic edition of PR. Last week Mitchell squeaked by and this week he was the captain of a pairing with Ra'Mon. Ra'Mon is one of the best designers this season and was not happy to be partnered with the listless Mitchell. Surprisingly Ra'Mon and Mitchell's team won but Ra'Mon did almost everything and Mitchell was voted off. Mitchell bothered me because he looked like Perez Hilton and I am glad he is gone.
During a night of partying the usually calm CJ punched a spring breaker on the bus home. I think he was defending Derek and the police found CJ the next morning and threw him in jail. CJ was supposed to have an NFL tryout a day later in Las Vegas and his stint in jail almost made him miss the most important job interview in his life. CJ made the trip to LV and brought Bronne and Derek with him.
The ladies took their own trip to Playa Del Carmen and immediately get on each other's nerves. After both the girls and guys return from their short vacays Emilee tap dances on Bronne's Zombie magazine, which infuriates Bronne.
Bronne blows up on Emilee and Ayiiia and says very cruel and hurtful things. For some reason he was so angry that Emilee danced on his Zombie magazine he made fun of Emilee's adderall prescription and Ayiiia's mental instability, which is unnecessary and intolerable.
Next week: Season finale and another threesome!
Reality Bites:
"Reality Hell" (Sunday E! 9 p.m. CST) will make you laugh because the producers make people feel uncomfortable.
Mike V. won this week on
Top Chef
and Preeti was asked to pack her knives.
Albert Pujols beat Shaq in a Home Run Derby on "Shaq Vs." This show will only last one season so "enjoy" it while you can.
The next "Real World" will be in Washington D.C. - The cast better be good because D.C. seems like a snooze fest. The producers had the right idea by putting this season's cast in Cancun but the cast is not very exciting.
Jeff was eliminated on
Big Brother 11
, ending his relationship with Jordan. Man tears :'(.
So You Think You Can Dance
replayed favorite dance routines from previous seasons. My lady likes this stuff so I had to watch. I don't mind her being a dancing enthusiast and we will abbreviate this show to SYTYCD and
Dancing With The Stars
to DWTS. Thanks ;).
"Rob Dyrdek's Fantasy Factory" is typically pure joy and this week the gang took an IQ test. Rob has fantastic ideas that make him and his crew look silly and this was another hilarious idea.
It is hard for me to watch
The Real Housewives of Atlanta
because I hold the Orange County gals so close to my heart, but I will catch up on the ladies soon enough. I can't wait for the original housewives new season.
"Crash Course" (Wednesday 8 CST ABC) is hosted by
Dan Cortese
, which makes me sad because I remember the old Dan Cortese from MTV's "Rock N Jock." He was much cooler back then.
Rachel Bilson
was a guest judge of Project Runway. I love Rachel Bilson but I think she is dating someone. I should know who but I have forgotten. Readers can you help me here?!
"Models of the Runway" is on after "Project Runway," and I had no idea there was this much drama involved in picking the models the designers of "Project Runway" use. SMH (shaking my head).
"Daddy's Girls" is a bad show and these girls have no business being reality stars. I think they have a future in fashion design, but I do not care about them.
Readers, did you ever watch "Blow Out" starring Jonathan Antin? He is my favorite reality star of all time and I miss his on-screen antics.
Story by
Matt Anaya
Starpulse contributing writer
Twitter.com/shmattshmanaya