'Real World: D.C.' Star Emily Schromm Talks About The New Season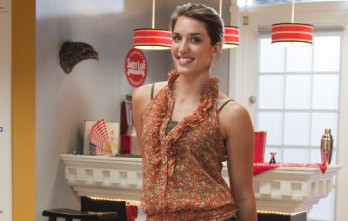 "
The Real World: D.C.
" premieres Wednesday, December 30, on MTV. 21-year-old bisexual Midwestern girl Emily Schromm stars in the 23rd installment. She got a slow start in life but is now making up for lost time. To call her adventurous is an understatement - a better word would be daring. A tomboy at heart, Emily was not been able to venture outside of Missouri for most of her life, but she's now interested in snowboarding, skydiving, rock climbing and, of course, both genders.
Starpulse: Why do you think MTV picked you for "The Real World D.C.?"
Emily: That is a good question. I am kind of curious still why they picked me. I think they just liked a Midwest girl that has big dreams and the ambition to do it. I think that although there are a lot of girls out there they thought I was kind of special. I love being around people, I love meeting people, I love trying new things, and I think that is what a reality TV show is all about. I think I fit the social realm.
What makes your cast different than the rest?
I do not watch very many "Real Worlds," I am not going to lie, so I do not know what previous shows were like but I do think we are very unique. We all have different parts to us. We're not just crazy or sentimental; we are all a little bit of everything. On top of that we all have a different passion or reason why we were there. Whether it be working with a non-profit organization or interning, we all had reasons to be there, not just to party.
You talked about having big dreams. What are your big dreams?
I kind of want to do everything; I think my big dreams are making sure I live life to the fullest because I got going late. A year and a half ago I was like, "I can do this, I can do that," and I started exploring, going skydiving, traveling, seeing new things, meeting new people, and it was the first time my eyes were opened. I got to see how much the world has to offer and I just want to get my hands on anything. I would love to go to Brazil or Africa and work there and do dorky things like skydiving, so I am all over the place (laughing), but I just want to try it all.
Are you in college right now?
Yes, I go to the University of Missouri, which is Mizzou for short. I had to take this semester off for "The Real World," but I will start back up in January. I am actually currently enrolling for classes right now and trying to figure out which classes to take. I do not want to do it but I know I have to.
What are you studying?
Good question (laughing). Well I was biology because I used to be all about animals. I worked with them my whole life but now I am not ready for vet school or any of that and I am thinking right now of social work and international relations. My dream when I graduate is go to the Peace Corps and go to Public Health for grad school and use that to work abroad, specifically Africa.
Describe the casting process.
Well I am a barista at Starbucks, and I did not know there were auditions and I worked the Saturday that the auditions were held very close by; they were maybe 30 feet from my work. This guy kept coming in and I asked him why he kept coming in and he told me they were holding MTV "Real World" auditions, and it turns out he was a casting director. He told me to meet him later, and we hit it off real well and we continued the conversation past the audition and through the process it was me going with the flow. It was a total accident but I was going with the flow and I had nothing to lose.
What was D.C. like?
It is amazing how many opportunities are there and the city life is great. There is something to do everyday: the clubs, the different areas, street festivals, and there was a lot of fun stuff. A lot of people do not give D.C. enough credit, and there are a lot of non-profit opportunities and internships everywhere that people like me can take advantage of.
Tell us about "The Real World" house.
It was gorgeous and I loved the location of the house, it was right in the middle of Dupont Circle and we were not secluded but involved in our community. We would see our neighbors all the time and little things like that made the house that much better. It was a very big house and the location was perfect for what we wanted to do.
Will we see you on the Challenges?
I am a pretty competitive person so I...who knows (lauhing). But I would not mind it and I thrive off of competition. Who knows but I think I would have a great time there.
How long did it take for you to get used to the cameras?
I feel like it took only the first day. After a while you just be yourself and it is no big deal.
Are you known as a party girl?
(Laughing) I am a tequila girl and I love to dance and party. I do not like to get belligerent but I like to dance and socialize and have fun.
Are you still friends with your castmates?
Yes! I went snowboarding with Mike and saw him for four or five days and we went snowboarding and I got my ass kicked on the mountain. And I am in contact with everybody and on really good terms.
Is Mike your boyfriend?
Oh no (laughing). He is more like my twin since we look alike and we are the bisexuals of the house.
Story by
Matt Anaya
Starpulse contributing writer
Twitter.com/shmattshmanaya