'Real Housewives' Star Teresa Giudice And Her Husband Plead Guilty To Fraud Charges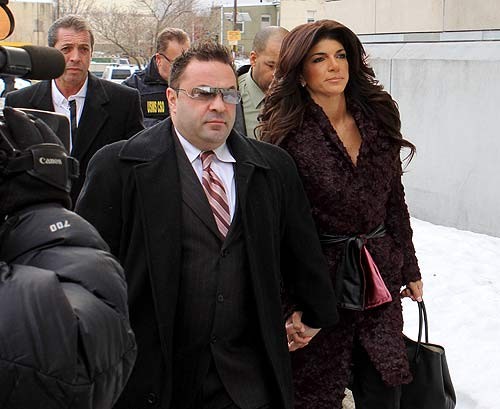 Real Housewives of New Jersey star Teresa Giudice and her husband Giuseppe (Joe) each pleaded guilty to bank fraud on Tuesday.

The couple was hit with federal indictments on bank, mail and wire fraud along with tax evasion last July, 41 counts in all, and faced 30 years in prison each if they were convicted. Both Teresa and Joe each admitted their guilt in court in a plea deal that will lessen their sentences. According to TMZ.com, Teresa, who pled guilty to four counts, now faces around two years in prison while her husband could be locked up for nearly four years after pleading guilty on five of the counts. He also faces deportation because he's an Italian citizen.

The couple was initially investigated for lying in order to obtain over $4 million worth of loans from a number of banks over a seven year period, and they also withheld the $110,000 they made from starring on the hit Bravo TV show on their 2009 bankruptcy filing. They also created fake pay stubs and tax forms from non-existant companies to "prove" Teresa's employment in order to secure bank loans. Joe also didn't report over $1 million in earnings from 2004-08.
Sentencing is set for a later date.