'Real Housewives' Star Taylor Armstrong Devastated By Husband's Death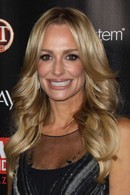 Reality TV star Taylor Armstrong has been left "devastated" by the apparent suicide of her estranged husband.

The body of Russell Armstrong was discovered in a friend's Mulholland Drive, Los Angeles home on Monday evening.

Real Housewives of Beverly Hills regular Taylor had recently separated from Russell and filed for divorce last month, accusing her husband of physically abusing her.

But the news of his death came as a shock for the star and she is now trying to find a way to break the tragedy to their five-year-old daughter, Kennedy.

Robert Thorne, Taylor's attorney, tells TMZ.com, "Taylor Armstrong is devastated by the tragic events that have unfolded. She requests privacy at this time so that she may comfort her young daughter."

Meanwhile, a representative for Bravo, the TV network that airs the reality show, says, "All of us at Bravo are deeply saddened by this tragic news. Our sympathy and thoughts are with the Armstrong family at this difficult time."