'Real Housewives Of New Jersey' Season 6 Episode 6 'The Family Business'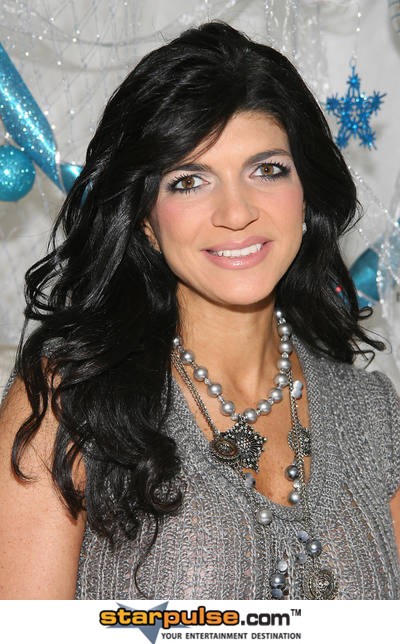 Vision boards. Scientists. Corporate jets. Oh my. We're getting lofty in the Garden State.
Still smarting from the First Responder attack, all the castmates decide to retreat back into their families for moral support, with the kids having a more high profile role than usual.
I almost feel badly for this second-generation that counts reality TV as part of its legacy; although none of them yet seem any worse for the wear just yet. Especially not the feisty Gia Guidice. She has just turned thirteen, and as her gift, Teresa passes down to her a ring that Gia's grandmother had given to Teresa. When the girl opens the box, I don't know why I was shocked that it was a diamond worthy of Liz Taylor or better yet Zsa Zsa Gabor. Perhaps they're grooming her to appear on future episodes of the 'Real Housewives of Beverly Hills'. I will admit though, that when Teresa leaves Joe and Gia (and her rock) alone, they have a very sweet father/daughter moment, unlike the Dina/Teresa moment where the two women make vision boards to lift Teresa's spirits. Even TG thought it was silly. 
Teresa cut out the word "freedom" from a magazine and pasted the huge letters in the corner of her board. Dina tells her that if she visualizes it, she is preparing for it to happen. If all it took was a vision board to keep people out of jail, there wouldn't be enough glue left on the planet.
The mother/son moment we're treated to between Teresa Aprea and her 18-year-old son Giovanni is downright scary, as he drives through downtown Manhattan to his family's restaurant while his mother screams at him to watch the traffic. He should really consider this as a sign of what's to come when he starts working in the family business. Teresa and her husband Rino are expanding; hoping to open a place in New Jersey that will be for Teresa and Giovanni to run. (So she can scream at him to watch the hot plates.) Rino says Giovanni is a natural, so I guess whether he likes it or not, this young guy is going to be a restaurateur. Perhaps in a couple of years we'll be see him compete on 'Top Chef' and further down the road, as a judge on 'Chopped'.
Last but not least there are the Marchese siblings. Two episodes ago we saw Amber and Jim and their kids shooting a TV commercial for their mortgage business. Tonight Jim and Amber screened it for their friends -- no castmates were invited. It makes for a sweet home movie, but if they expect to get business with it, they may end up mortgaging there own home to make ends meet.