'Real Housewives Of New Jersey' Recap: Season 5 Finale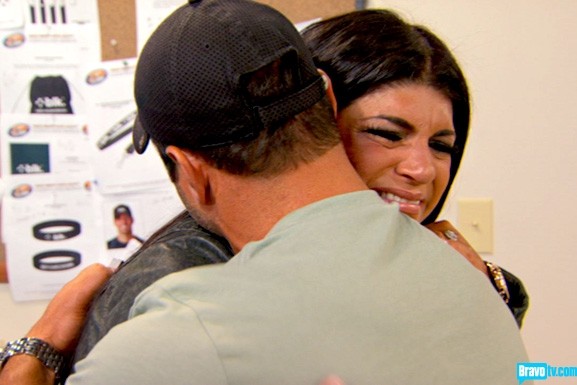 As all good things must come to an end, so must the fifth season of The Real Housewives of New Jersey. Must they go out with such a whimper, instead of a bang, though? These are the women that made "prostitution whore" part of our lexicon, and nary a table was flipped this entire episode.
We start off at Kim's salon opening from hell, Posche 2: the Reckoning, where Penny and the Gorgas are still screaming at each other about Twitter. Penny maintains, steadfast, that Teresa fed her all the information she ever tweeted about, and told her to say everything nasty she ever tweeted. I mean, it's pretty feasible.
The man of the hour, Penny's husband Johnny, shows up just in time for the fight to escalate. To be honest, if you weren't paying close enough attention it would be very easy to mistake him for one of the Joes. Johnny waltzes into the middle of the party and genuinely, sincerely, doesn't know what he did wrong. Joe Gorga "gently" reminds him that he's been constantly tweeting horrible things about his family for months. Ohhh, that whole thing.
Johnny tells him that if he wants to find the source of his drama, look to his sister. Teresa again swears that she didn't provide the couple with information (like that Melissa would be set up at the Posche fashion show last year). By far, the best part of this entire exchange is how everyone keeps screaming to check Penny's texts, but nobody can pronounce it correctly. "CHECK HER TEXASSS." "WHY DON'T YOU CHECK YOUR TEXTEDES, TERESA?"
Something puzzling happens where the camera gets shaky like a very tan Cloverfield, and it appears that Joe Gorga and Johnny are brawling. Caroline and Kim are also screeching at each other to the point where Caroline has to storm out "because she can't take any more drama." Did someone just get the news that she's not coming back for season six and decided to get in her last hurrah?
The next day, Melissa and Joe discuss what happened at home and come to the conclusion that what Penny said was probably partially true, but it's not worth fighting over anymore. By now, they've figured out that it's Teresa's world and they're just living in it. Regardless, it looks like Melissa has been up all night crying after this final fight. Kathy and Richie come over to lend their support, or get some airtime during the season finale, however you want to spin it.
Over at the Manzo Mansion, we're treated to a strange sequence where Caroline wanders through all of the rooms, reminiscing about the happy memories she's had there with her family over the years. She talks about the good times and the bad while clips from the first season are shown, compared to clips from this season. Al comes home and finds her huddled in a back room crying over a family photo, so they make the decision not to permanently move to the Hoboken love pad – Farewell, Caroline.
Teresa and Joe Giudice have their own get-together with Jacqueline and Chris. Jacqueline's greatest hope is that in this time of peace, the incident doesn't stir the pot with Teresa and her family. Nobody wants to sit through another retreat, for the love of God. She suggests that if there's any truth at all to what Penny's said, Teresa needs to own up to it now before things get bad again – it'll save pain down the road.
Teresa hesitates, but cracks; looking back, she regrets how she's behaved in the past when it comes to Melissa. She's hung out with people who didn't like Melissa, and fueled some of the terrible things they've said out of frustration, because Melissa had also been saying awful things about her. But it was never out of hatred. One thing they never discuss is Johnny's tweets about Jac and Chris making up Nicholas' austism for attention; do they not think Teresa is behind that?
The whole gang goes to a truly lackluster Blk tasting party (seriously, only people there are the RHONJ castmembers) where they sample the new energy drink the boys have cooked up. I once saw an actual bottle of Blk in a bodega and it cost almost double the amount of regular water. Also it was pitch black, so…nope.
Teresa pulls her brother aside and talks to him about what she realized with Jac. They have what seems like a normal, real conversation about the texts (texteses) – Teresa apologizes for the mistakes she's made in the past, and for not sticking up for Melissa. She still says that she never put anyone up to starting rumors, though. But here's the kicker. Joe accepts her apology and acknowledges that Melissa has also said rude things about Teresa, and she tearfully tells him that she wants him to put his wife and children before her from now on. THIS IS HUGE.
While any normal person would think that from the beginning, Teresa has always operated under the assumption that Teresa is #1 to everyone. Maybe at this point during filming her legal problems were starting to catch up with her and she got a dose of reality? It looks nice on her.
During a new dawn, the Giudices head to their newly-restored house at the Jersey Shore, which was destroyed during Hurricane Sandy. It's the perfect spot for the whole cast to end their season together, talking and boozing (what else is new?). Here's what we know:
Kathy has decided that she's ready for a new kitchen, and is building her new dream home. She's FINALLY taking the lead and Richie's staying out of the way. Ugh, how much do you want to bet she wrote that herself?
Jacqueline's daughter, Ashley, is moving back home and planning to attend beauty school eventually. You know her track record. Nicholas is preparing for preschool.
Caroline is back at home with Al, Lauren and her sister Frannie (the one with all the animals). Thrilling synopsis, Caroline.
Melissa and Joe finally sold their house for $3.8 million, and moved 30 minutes away from Teresa. They're still on good terms, though.
Just as you think you're getting Teresa's wrap up, Bravo foams at the mouth showing snippets from any and every news show that covered the Giudice indictment news. Hint: It was pretty much every single show. Her last word is that she and Joe are going to trial, "but there is peace in the family and Teresa continues to love love love."
Grade: B
Stray Observations:
- I would have thought Caroline had gotten fired from RHONJ until I heard that she's getting a spinoff, called Manzo-ed with Children, no less. That's not even a pun Andy Cohen! The Manzos were just so…lackluster this season. Why give them their own show? Rumor has it that Caroline's being replaced by none other than Dina, though, so we've got that to look forward to – and Grandma Wrinkles.
- Another rumor is that when the news broke about Teresa and Joe's legal situation and their impending trial, Bravo bumped Real Housewives of New York down the RH lineup and moved up the next season of RHONJ to get in all the footage (and you know, just in case Teresa's going to jail for the next 50 years). Filming started again almost immediately. Do you think they'll get convicted?