'Real Housewives of New Jersey' Recap: Garden State of Emergency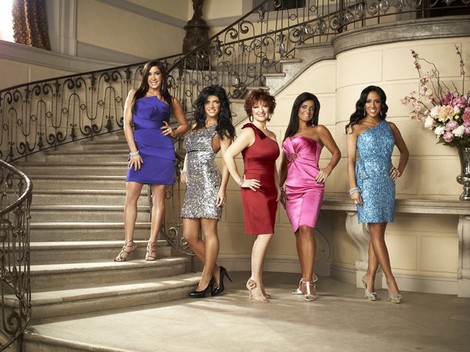 The fifth season for Real Housewives of New Jersey opens on a somber note in November 2012, as all the women deal with the aftermath of Hurricane Sandy in their own way. Most of the families have houses down at the Jersey shore, and the wrath of the storm has all but destroyed their vacation homes. Fortunately, they all have enough humility to recognize onscreen that some people can't go home to unaffected houses, as they live at the shore full time.
Now, you would think that a major disaster would bring the women together and make them realize that their normal fighting is petty, and senseless, right? So, so wrong.
At the time of the storm, Teresa hasn't seen her brother Joe, or Melissa, in over a year. This is probably going to change since filming has started up again, but let's pretend that has nothing to do with it. She is still harping on the same line as last season – if her brother wants to "come back to her," she'll love him again.
Now, to help the Hurricane Sandy victims, Teresa and her daughters are clearing out her closets to donate the most glamorous used items. Hey, people probably lost Louboutins in the flood water too, you know.
Jacqueline is having a tough time in the year since her three year-old son, Nicholas, has been diagnosed with Autism. He struggles with communication, and you can see the toll it's taking on her and Chris. She breaks down in her confessional while talking about her son, but it's clear that she is doing an amazing job trying to help him.
Joe and Melissa have kept their kids away from Teresa and their nieces, but are reconsidering their decision when they find a letter that Antonia wrote to her cousin Milania. They agree that this feud is between the adults, and shouldn't victimize the children, but they are still afraid that Teresa is telling her girls lies about their aunt and uncle. They decide to send the letter to Milania anyway to see what happens. I smell drama.
Milania is thrilled, and Teresa looks almost more excited at the prospect of contact. She immediately whips out her phone to call Melissa to set up a playdate between the girls. Of course, she sees this as Melissa using Antonia as a way to apologize for what she said at the reunion special. Whatever helps you sleep at night, girl.
Caroline and her husband have rented an apartment in Hoboken for a year to see if city living could be in their future, once they sell their giant house. The kids are all moving on, and maybe it's time they did too. She invites Joe and Melissa over to see the new place, and they text Teresa about the playdate. Neither party wants the girls being influenced by the adults, so they can't decide who's taking them. Should we coin the phrase playdate-gate yet, because that's where this seems like it's heading.
Gia is the real star of the show at this point. While out shopping with Teresa, she is clearly annoyed by the whole situation, and decides to take charge. She just takes Teresa's phone from her hands, types out a response to Melissa, and walks away. It's beautiful. Now there's finally a real playdate to get worried about.
The showdown takes place at a bead shop with the two little girls in tow, meaning nothing explosive happens. There is a minor scuffle about scheduling the girls' first communions, which happen to be on the same day, but Teresa declares herself the "bigger person" and vows to reschedule hers. Doubt that's going to happen.
Now, while this was going down, Caroline and Joe went on a coffee date together. Isn't that the cutest friendship? She listens to him patiently while he explains that he's not ready to make amends with Teresa, but he's going to try for the sake of the children. He even tears up a little bit.
Let's see how that decision pans out.
Grade: C
Random Thoughts:
- I didn't talk about Kathy because she was literally in this episode for two minutes. She talked to Rosie about online dating. Zzzzzzz Kathy is so boring why is she still a housewife?
- The Giudice girls really showed off their acting chops this episode. The best actress award goes to Milania, for her wonderful performance in "confronting mommy about her love for my uncle." Extra points for forgetting her cousins' names.
- Best quotes:
Joe Giudice: "Tell her 'compromise, you stank-ass beyotch!' That's what you need to say."
Jacqueline: "I'm so tired of listening to Gorga-Giudice drama. It's right up there on my priority list with bleaching my asshole."