'Real Housewives Of New Jersey' Recap: Children Of The Scorned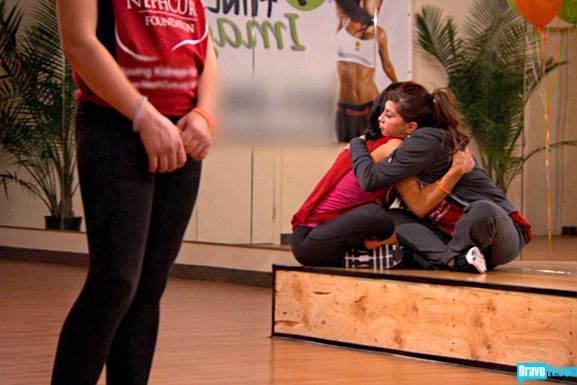 Last week's discussion (fight? confrontation?) between Jacqueline and Teresa wraps up as the ladies get to the real meat of the problem: their incessant need to tweet every time they're upset with each other instead of confronting their problems directly. But they agree to get over it, essentially, and move forward in their relationship in a new way. They'll be civil – and maybe one day, they'll be friends again.
Jacqueline and Kathy hit up a lingerie store later on to discuss her reconciliation with Teresa, and she reveals that she's heading to Beverly Hills soon to get a tummy tuck and her neck done so she can feel more confident about her body. Plus, she can spend some time with Ashlee, who lives in LA.
Since Joe Gorga feuded with Teresa for so long, he missed out on a lot of valuable bonding time with goddaughter/niece Gia, and now he wants to make up for the lost memories. Naturally, they're going to mend their broken relationship by go-karting it out.
Gia is 12 now and a typical moody preteen, so she pretends to hate it, but you can tell that she's having a good time with her goofy uncle. But she's also a smart, tough cookie, and isn't going to pretend like everything's okay when it's been tension-city for months. So she sits Tio Joe down for a casual confrontation over Dasani and stale pretzels. We have a mini Teresa on our hands.
Joe realizes that sometimes his crazy reactions to his sister's words have an impact on the children, and not just the adults. He makes a vow to always look out for his nieces, no matter what's going on with Teresa.
Speaking of Mrs. Giudice, Teresa has invited all of her family and Jacqueline's family to a massive zumba fundraiser somewhere far enough away that they have to take a party bus to get there. It's a great cause – raising money for a little boy with a chronic illness – but most of the event is spent focusing on Teresa and Jacqueline's newly minted friendship. Classy, Bravo.
And the rest of the gang is having a blast, too. The whole episode is worth it for the glimpse of Joe Giudice zumba-ing with such enthusiasm. When did he become such a softie?
Remember Albie and Chris' amazing best friend/roommate Greg, who was a season regular for the last few years? Well too bad, because he only stopped by this episode to say goodbye; Greg got a new job in San Francisco, and the boys threw him a big going away dinner with all his best friends (who are also cast members).
Caroline alarms everyone present by sobbing as she says her goodbyes and presents Greg with a gift. It's a sweet gesture, a framed photo of some graffiti that he spotted when moving into his apartment with the Manzo boys: "take care of each other." It's SUPER cheesy, but a perfectly mom thing to do when a kid's going off to the "real world." Even though Greg is a grown man and has parents of his own.
Jacqueline finally makes it out to Beverly Hills toward the end of the episode, where she reunites with her daughter, who is decidedly more mature than the last time we saw her. Ashlee is a blogger now, who actually pays her own bills and manages to take care of herself without much trouble. Who knew?
Ashlee's concerned about her mother getting such serious surgery done, when she really doesn't need it. Jac's parents are also in town from Las Vegas for support, and her father echoes the sentiment – why undergo major surgery for something so trivial? But Jacqueline wants to do this for herself, so she can feel sexy again, and isn't going to listen to anyone else.
She should listen to her doctor, however, who has strictly told her that she shouldn't be drinking alcohol or eating a huge meal before surgery. But she ignores his orders and does tequila shots and eats taco salad. Luckily, her ignorance doesn't cost her and the surgery is a complete success.
Now it's up to responsible Ashlee to take care of her mother this time around as she recuperates – next week is going to be interesting.
Grade: B+
Stray Observations:
- I can't think about anything else but the absolutely horrifying image of two massive chunks of Jacqueline's skin just blatantly lying on the surgical table. How did that make the cut, Bravo?? One chunk of JACQUELINE'S ACTUAL FLESH even had her tattoo attached. That's not okay. Nobody wants to see that.