'Real Housewives Of New Jersey' Q&A: Teresa Giudice's Italian Fashion & Food Advice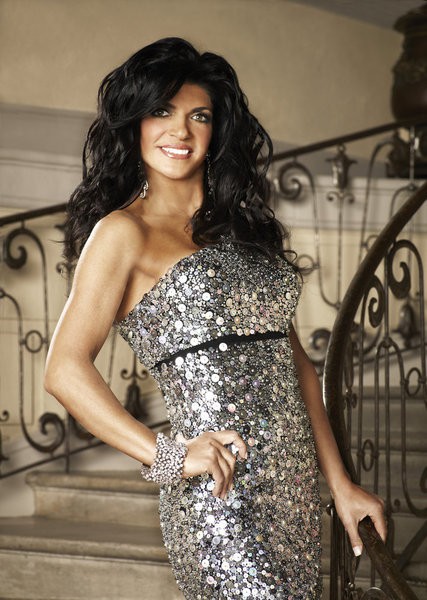 With over 800 RSVP's to see "The Real Housewives of New Jersey's" Teresa Giudice at Water Tower Place's In Fashion Lounge, it's no wonder this Magnificent Mile shopping center chose Teresa as the star attraction for their Fashion's Night Out in Chicago. Teresa, in the Windy City to mingle with fans and sign copies of her latest cook book "Fabulicious", took time before greeting her swarm of anxious followers to talk with Starpulse about everything from her favorite shopping tips to her best recipes to make the perfect Italian dinner, Jersey style.
Like Countess LuAnn de Lesseps from "New York" and Gretchen Rossi from "Orange County", you are in Chicago for the In Fashion Lounge. What style tips do you always use while shopping?
My thing is I love unique pieces that stand out like snake skin is very in now. Snake rings too, I love that. I love hats too. You can have a simple outfit and then accessorize it and it looks hot. Jewelry and hats totally make an outfit.
You have two Italian cook books out right now, "Skinny Italian" and "Fabulicious". If you were to take recipes from both books to make the perfect Italian meal, what would be on the menu?
For an appetizer, stuffed eggplant. For a second dish, steak pizzaiola and let's see for dessert, I love the strawberries with the sambuca and for a pasta dish I love devil shrimp over angel hair pasta. I love red sauce. Italians are big with the red sauce. If you want to use a white sause, do linguini in a white clam sauce. Wait, no! My favorite in "Skinny Italian" is tagliatelle with peas and ham. But, the white and spinach tagliatelle so when you make it, it looks really pretty. It's absolutely delicious. Also, another great dessert is the holy cannoli cupcake. In my second book "Fabulicious", the last chapter is called "The Happy Ending". Who doesn't need a good happy ending like a cupcake?
You have TV star and New York Times best-selling author credits under your belt. Are there any other ventures you would love to get involved in? 
I am coming out with a cosmetic line with nail polish, lipgloss, and lipstick called TG by Teresa Giudice in October. It's going to be in places like CVS and Wal-Mart. So, it's like a buy one get one free, like you buy a nail polish and you get a lipgloss free. They are packaged together.
I am also coming out with and formulated my own bellini, which is called Fabellini and it will be out around the holidays. It's all natural. I am using a gold medal champagne with natural peach puree. You know my first book I was all about bellini, so I'm like I need to formulate my own. It's 12% alcohol too so it will totally get you buzzed!