Real Housewives Of Beverly Hills: Your Face Or Mine Episode Re-cap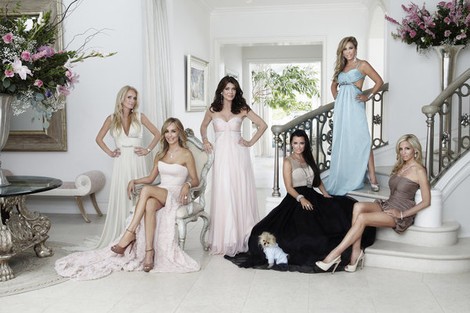 Adrienne Maloof's husband, Dr. Paul Nassif, opened last night's episode with his own Paul's Night of Beauty. The Beverly Hills plastic surgeon invited the ladies of The Real Housewives of Beverly Hills to his office for non-surgical beauty treatments. Unfortunately, Camille Grammer was too distressed over custody issues with ex-husband Kelsey that she decided not to join the botox party. Kyle and Lisa decide to show their concern to Camille by calling her to express their support.
Dr. Nassif has been making over many of the Beverly Hills ladies and their friends and family. Last week we saw Kyle Richards support her mother-in-law Estrella get a facelift. The practice seems to a family affair as Adrienne Maloof has held Taylor Armstrong's hand while getting injections. Tonight she was doing the same hand holding for Kim Richards. It seems that Beverly Hills is carrying on the same tradition of botox parties that have been seen on the Orange County show. Fortunately, the cat fights at Beverly Hills cosmetic parties are more elegant than in Orange County. I personally prefer Lisa VanderPump's posh accent get snippy at Taylor over fake tanned Alexis Bellino argue with Vicki Gunvaldson. For some reason, Beverly Hills housewives seem the ore down to Earth cast compared to their O.C. sisters. I guess that is the difference between those who are genuinely wealthy versus living high on credit though Taylor Armstrong is the exception.
During Dr. Nassif's beauty party, Kyle Richards was treated to a waist trimming treatment while her sister Kim Richards was at home packing. Kim is preparing to move in with her secret boyfriend but Kyle has no idea about it. Eventually Kim does make it to Dr. Nassif's office and Kyle greets her by saying that trouble has arrived. When Kim goes into the treatment room with Dr. Nassif, she insists Kyle not join her as she gets injected with facial filler. Kyle is annoyed but eventually makes her way into the treatment room where she learns that Kim is taking mediation.
Kim and her sister Kyle have a mother-daughter dynamic reminiscent of the adolescent years. Kim is always asserting herself against Kyle while Kyle tries to control Kim a lot. The Richards sisters are known as the aunts to Paris Hilton and were child stars in the 1970's and 1980's. The sibling relationship is fraught with jealousy and rivalry stemming back to their early Hollywood years. Their estrangement was tough on both after Kyle called Kim an alcoholic.
During her consultation with Dr. Nassif, Kim reveals that she is taking Lexipro. This revelation explains a lot of why Kim's behavior seems odd lately.  Lexipro is used to treat depression and anxiety but some of its side effects can make a person appear drunk. Fortunately for Kim, there is no adverse effect of getting dermal fillers while taking Lexipro. She decides to have injections to make her lips look fuller but insists that she not end up with Taylor Armstrong's fish lips.
Taylor Armstrong's lips are the most prominent feature on her face. In her attempt replicate Angelina Jolie's puffer lips, Taylor got implants. She seems to like her lips but fans of the show are so bothered by them. They don't look natural and appear as if she got punched. The bee sting lips just don't work on Taylor's thin face. If anything, Taylor Armstrong's lips reflects her intense need to escape her past in terms of appearance, name, and personal history. Taylor used to be Shanna Hughes but later became Taylor Ford and passed herself off as a member of the Ford family before marrying Russell Armstrong.