'Real Housewife' Kim Richards Leaves Rehab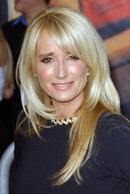 Paris Hilton's reality TV star aunt Kim Richards has left rehab after completing four weeks of treatment.

The Real Housewives of Beverly Hills star, who has constantly dismissed suggestions she's an alcoholic, checked into a facility earlier this month  in a bid to battle her demons, and now Richards has finished her program and moved in with her sister Kyle.

A source tells People.com, "She's doing OK. The plan is for her to continue with outpatient therapy. Everyone is hoping for the best."

It's still not immediately clear whether the 47 year old sought help for alcohol-related issues.