'Real Housewife' Brandi Glanville Strolls Through Malibu In A Hot Pink Bikini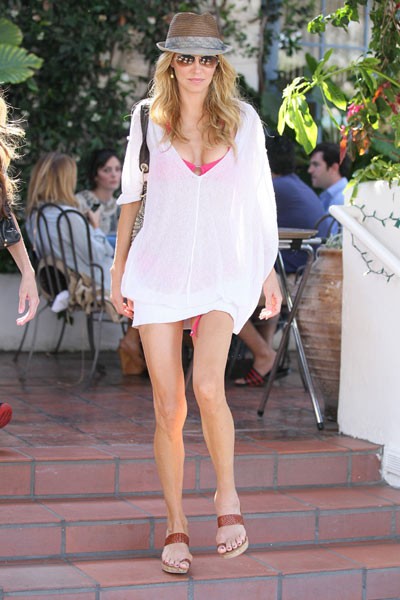 Brandi Glanville, the newest member of Bravo's Real Housewives of Orange County, showed some sexy curves last week in a thin white coverup with her hot pink bikini peeking though while shopping at Cross Creek Center in Malibu, California. The star also had lunch with a friend at Taverna Tony.

Brandi recently replaced Kelsey Grammer's ex-wife Camille on Housewives, and like Camille she herself went through a crazy divorce - her ex-husband, actor Eddie Cibrian, left her for singer LeAnn Rimes.

Glanville and Cibrian divorced after the actor and Rimes confessed that they were having an on-set affair while filming made-for-TV movie Northern Lights together.

Since then the two have had a somewhat tumultuous relationship, beginning with a war of words on Twitter. Both have been criticized over their weight, with Brandi posting a sexy picture (since removed) to her Twitter account with the message, "Hardly a stick figure E News!! I got a few curves. Your stories are funny though :)!" and LeAnn following suit on July 4th weekend with some sexy pics of her own and a very similar message.

That's not the only time LeAnn has seemingly followed one of Brandi's moves with a similar move of her own. In April she Tweeted a photo of herself in a pose that was exactly the same as the one posted just days earlier by Brandi on her Facebook page (see them here); and at Rimes & Cibrian's wedding in April LeAnn wore the same style wedding dress that Brandi had worn for her wedding to Cibrian in 2001. Both weddings even took place in private homes on the beach.