Razzie Awards Preview: Nominees Include Sandra Bullock, Megan Fox & More

For the past 30 years on the evening before the Hollywood revels in its own glory at the Academy Awards, the Golden Raspberry Awards do the best they can to gleefully throw sand in the industry's face. The Golden Raspberry Awards (or Razzies) are a kind of Anti-Oscar, dolling out cheap plastic statuettes to the worst movies that Hollywood plops onto the guileless public every year.
Heading up this year's awards with 7 nominations each are the ultra-big budget sequel "Transformers: Revenge of the Fallen," and the comparably expensive box office sink pit "Land of the Lost." "Transformers" was one of the year's biggest money makers, despite critics' near unanimous declaration of it being borderline unwatchable, with emphatically negative reviews like this one from The Christian Science Monitor's critic Peter Rainer who called the film "an impossibly, incomprehensibly overlong and cacophonous bore." Still, the promise of robots smashing into each other drew in nearly a billion dollars in worldwide revenue. It earned nominations for Worst Picture, Worst Actress (Megan Fox), Worst Screen Couple (Shia LaBeouf and Fox), Worst Supporting Actress (Julie White), Worst Remake, Rip-off or Sequel, Worst Screenplay, and Worst Director (Up yours, Michael Bay).
"Land of the Lost" wasn't so lucky. Apparently the promise of dinosaurs intermingling with a shouty, mugging Will Ferrell doesn't quite have the box office draw as a pair of giant robot testicles. The film made about $68 million worldwide, putting it $32 million in the hole. Aside from the enormous debt, the film also garnered Razzies for Worst Picture, Worst Actor (Ferrell), Worst Couple (Ferrell and "any co-star, creature or "comic riff"), Worst Supporting Actor (SNL writer and Lonely Island member Jorma Taccone), and Worst Remake, Director, and Screenplay.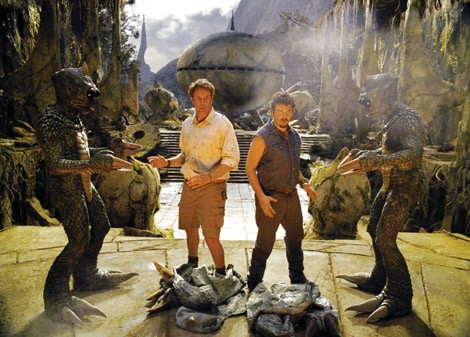 At the Oscars, Sandra Bullock is currently a front runner to win Best Actress in "The Blind Side," but her frighteningly irritating turn in the psychopathic rom-com "All About Steve" earned her a Razzie nod for Worst Actress. Bullock, who also produced the film, plays Mary, a character whose sole purpose on Earth is to frighten and irritate the living shit out of everyone she comes across. Sound like an endearing movie? Didn't think so.
This wouldn't be the first time that an Academy Award winner made room for a Razzie on the mantle. Halle Berry won for her role of Catwoman in the wretched 2004 film of the same name and actually accepted her award in person, Best Actress Oscar in hand. Bullock would be the first actress to win an Oscar and a Razzie over the same weekend. The actress is game for the deserved ribbing, in interviews she has vowed to accept her award in person if she "wins." "All About Steve" is nominated for four additional Razzies (Worst Picture, Couple, Director and Screenplay).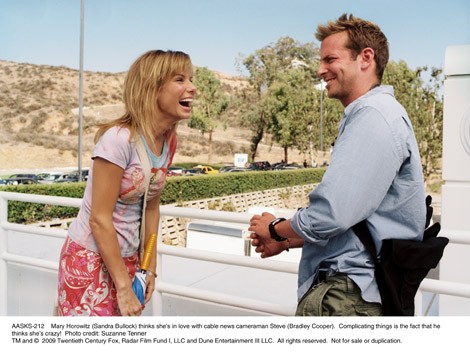 Other Worst Picture nominees this year are that other 80s toy line turned movie "G.I. Joe: The Rise of Cobra" with 6 nominations, and Disney's "Old Dogs" with 5 nominations.
Apart from ravaging 2009's crop of failure, this year's event will also commemorate an entire decade's worth of gut wrenching wastes of time by doling out awards for Worst Movie of the Decade as well as Worst Actor and Actress of the Decade.
Up for Worst Actor is an array of names that are surefire warning signs for bad movies, and all are former Razzie winners: Ben Affleck for his part in "Gigli," "Pearl Harbor," and others;  Eddie Murphy for every movie he made in the last year save for maybe "Dreamgirls;" Mike Myers for "Cat in the Hat," and "The Love Guru;" Rob Schneider for being Rob Schneider; and John Travolta for his unforgettable turn as Terl in "Battlefield Earth."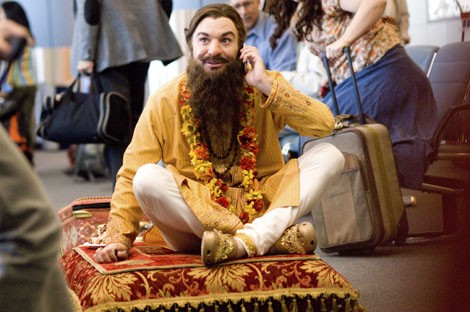 Worst Actress is a similar fair of box office poison, with names like Jennifer Lopez, Lindsay Lohan and Madonna. But nominees like Mariah Carey (who is nominated for her "work" in the "movie" "Glitter"), and Paris Hilton would be more aptly described as "Direct to Video poison."
The nominees for Worst Picture of the Decade should come to no surprise: hilarious train wreck "Battlefield Earth," Bennifer epic "Gigli," Lindsay Lohan vehicle "I Know Who Killed Me," Guy Ritche's collaboration with then-wife Madonna "Swept Away," and Tom Green's exasperating bit of anti-comedy "Freddy Got Fingered."
Winners will be announced Saturday, Mar. 6. For a full list of nominees, see below.
Worst Picture:
All About Steve
G.I. Joe: The Rise of Cobra
Land of the Lost
Old Dogs
Transformers: Revenge of the Fallen
Worst Actor:
Kevin, Joe and Nick Jonas -- Jonas Brothers: The 3D Concert Experience
Will Ferrell -- Land of the Lost
Steve Martin -- Pink Panther 2
Eddie Murphy -- Imagine That
John Travolta -- Old Dogs
Worst Actress:
Beyonce Knowles -- Obsessed
Sandra Bullock -- All About Steve
Miley Cyrus -- Hannah Montana: The Movie
Megan Fox -- Transformers: Revenge of the Fallen
Sarah Jessica Parker -- Did You Hear About The Morgans?
Worst Screen Couple:
Kevin, Joe and Nick Jonas -- Jonas Brothers: The 3D Concert Experience
Sandra Bullock and Bradley Cooper -- All About Steve
Will Ferrell and any co-star, creature or "comic riff" -- Land of the Lost
Shia LaBeouf and Megan Fox or any Transformer -- Transformers: Revenge of the Fallen
Kristen Stewart and Robert Pattinson or Taylor Lautner -- Twilight Saga: New Moon
Worst Supporting Actress:
Candice Bergen -- Bride Wars
Ali Larter -- Obsessed
Sienna Miller -- G.I. Joe: The Rise of Cobra
Kelly Preston -- Old Dogs
Julie White -- Transformers: Revenge of the Fallen
Worst Supporting Actor:
Billy Ray Cyrus -- Hannah Montana: The Movie
Hugh Hefner -- Miss March
Robert Pattinson -- Twilight Saga: New Moon
Jorma Taccone -- Land of the Lost
Marlon Wayans -- G.I. Joe: The Rise of Cobra
Worst Remake, Rip-off or Sequel:
G.I. Joe: The Rise of Cobra
Land of the Lost
Pink Panther 2
Transformers: Revenge of the Fallen
Twilight Saga: New Moon
Worst Director:
Michael Bay -- Transformers: Revenge of the Fallen
Walt Beeker -- Old Dogs
Brad Silberling -- Land of the Lost
Stephen Sommers -- G.I. Joe: The Rise of Cobra
Phil Traill -- All About Steve
Worst Screenplay:
All About Steve
G.I. Joe: The Rise of Cobra
Land of the Lost
Transformers: Revenge of the Fallen
Twilight Saga: New Moon
Worst Picture of the Decade:
Battlefield Earth
Freddy Got Fingered
Gigli
I Know Who Killed Me
Swept Away
Worst Actor of the Decade:
Ben Affleck
Eddie Murphy
Mike Myers
Rob Schneider
John Travolta
Worst Actress of the Decade:
Mariah Carey
Paris Hilton
Lindsay Lohan
Jennifer Lopez
Madonna
Story by Kris King
Starpulse contributing writer