Ray J Going Through 'Tough Time' Over Whitney Houston's Death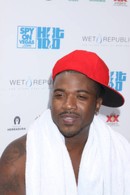 R&B star Ray J used a charity drive appearance on Friday to express his devastation over the death of his on/off girlfriend Whitney Houston, admitting he treasures a picture of the star he keeps on his phone.

The singer began dating the "I Will Always Love You" legend in 2007 after her divorce from husband Bobby Brown, but the couple split in 2009.

They enjoyed a sporadic love affair during 2010, and were linked together again in the months leading up to Houston's death in February.

He made an appearance in Los Angeles to give out gifts to young kids involved in the Brotherhood Crusade and Mothers in Action on Friday, and spoke to the crowd about his grief.

He told his fans, "I really miss my friend, ya know, I really do. I'm still hurting. It's just such a tough time for me. I've been through a lot in these past few weeks.

"I'm able look at life in a whole different way. I always look at my phone because... I got a picture of somebody I really love and it helps me through the day. But for the most part, I'm here for the kids. I'm here to give back, laugh with them, hug them, give them anything they need. So I want to thank all of y'all for coming."