Ray Charles' Children Hit With New Lawsuit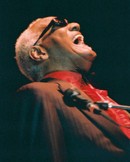 Seven of Ray Charles' children have been hit with a new lawsuit by members of the late icon's charity foundation.

Executives behind The Ray Charles Foundation claim they were named the sole benefactors, with Charles setting up a $500,000 trust for each of his kids in exchange for a guarantee that they "relinquished and waived any further claims to their father's estate."

However, the blues legend's adult children have recently claimed ownership over their late father's musical catalogue and now charity bosses have launched a legal battle against the star's heirs in a bid to win back the rights to tunes like I Got a Woman.

The legal papers, which were filed at the U.S. District Court in Los Angeles, have been obtained by CNN and the suit reads, "The self-serving attempts on the part of the defendants to deprive the foundation of its said intellectual property and contract rights not only is contrary to the express wishes of their father and in breach of the agreement they signed and promises that they made, but is contrary to the best interests of those innocent parties who would be benefited by the grants made by the foundation."

Foundation chiefs are asking for $500,000 in damages from each of Charles' four daughters and three sons.

The piano great, who passed away of liver disease in 2004, aged 73, had a total of 12 children but the other five were not named.

The Ray Charles Foundation supports youth programs and funds research for the hearing impaired.