'Ravi Shankar: The Concert For World Peace Live At Royal Albert Hall' Hits DVD Nov. 20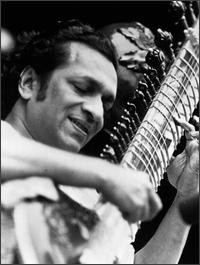 Ravi Shankar
, the internationally acclaimed sitar virtuoso, performer, composer, and master of Indian classical music has enlightened a generation of music fans around the world.
Now for the first time, Shankar's legendary Concert For World Peace, performed at London's Royal Albert Hall on November 9, 1993, will be available on DVD.
The music, three enchanting Rajas, has been remixed in lush Dolby 5.1® surround sound specifically for the DVD release. In addition, the DVD includes "Ravi Shankar: The Soul of Tradition," a 20 minute documentary featuring never-before-seen photos from Shankar's personal collection, as well as fascinating new interviews with Shankar, daughter
Anoushka Shankar
, composer Phillip Glass and more.
Ravi Shankar: The Concert For World Peace – Live At Royal Albert Hall
arrives in stores from A&E Home Video on November 20.
An invaluable addition to any music-lover's collection, this chronicle captures the unmatched brilliance of a great performer who has spent six decades perfecting his craft and the fleeting beauty of a gorgeously improvised performance that can never be repeated.
The Concert For World Peace
DVD includes Shankar's performances of Raga Jait: Alap-Jor-Jhala and Raga Misra Khammaj: Slow and Fast Gats, accompanied by world-renowned Tabla player Zakire Hussain and Shankar's own disciple (and virtuoso in his own right) Sarodist Partho Sarathy. Together they take you on a spellbinding musical odyssey of improvisational mastery.
"The magic in music happens only when the artist serves it with love and joy – and the listeners receive it with the same spirit." – Ravi Shankar
From his celebrated performances at Woodstock and the Monterey Pop Festival, to his mentorship of the late
Beatle
George Harrison
, Grammy-winning Ravi Shankar has been a pioneering force in the world of music. His association with musicians such as Yehudi Menuhin, Jean Pierre Rampal, Zubin Mehta,
Andre Previn
, George Harrison,
John Coltrane
,
Philip Glass
, and others established ground-breaking trends and standards that have set him apart in the annals of classical and contemporary music.
For a single night in 1993, the Royal Albert Hall became the epicenter of World Music as Ravi Shankar enraptured an audience with this legendarily mesmerizing concert. There will never be another performance like this, but you can enjoy it forever with this gorgeous DVD concert film, only from A&E Home Video.
A&E Home Video, part of the Consumer Products Division of A&E Television Networks (AETN) is a video distributor of non-theatrical programming, featuring collectible VHS and DVD editions of the high quality programming from A&E Network and The History Channel, as well as acquired classic programming. A&E Home Video brings the best of critically acclaimed entertainment presented in award-winning packaging to the special interest category. A&E Home Video products may be purchased at ShopAETV.com.