Rashida Jones Is Drop-Dead Sexy In The October Issue Of Flaunt Magazine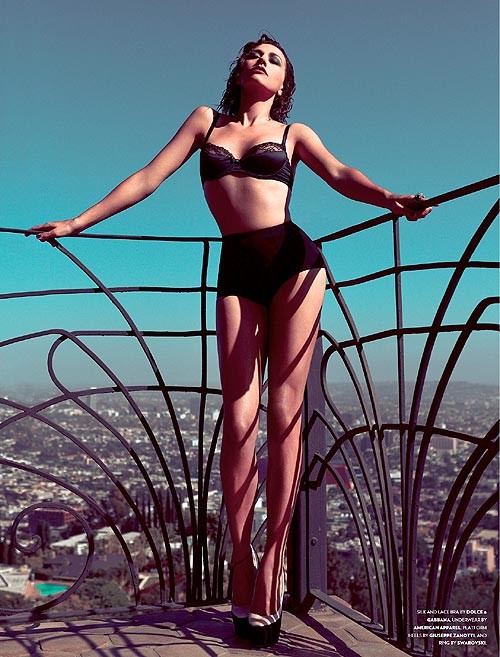 Parks and Recreation star Rashida Jones sizzles in a new Terry Richardson photo shoot for the October 2012 issue of Flaunt magazine.

The daughter of legendary music producer Quincy Jones shares her thoughts on some of the superstars who she's crossed paths with while growing up, and on her dream dinner date with Albert Einstein. She also explains her many talents in the very funny video she filmed while doing her photo shoot (watch it below).

Despite the likes of stars like Michael Jackson being in her midst while growing up the daughter of arguably the biggest music producer of all time, Rashida says it's another star who made her melt when she was a kid.

"John Travolta came to the house," she explains. "And because Grease was the only thing we ever watched, it was game over.

"That's all we cared about. We freaked out, ignored him, ran in the other direction and turned red."

Rashida made some "thoughtless" comments about Travolta recently, though; saying he should open up to all the gay rumors and come out.

During an interview with her Celeste and Jesse Forever co-star Will McCormack for Spinning Platters.com, Rashida said it's time for a big movie star -- specifically John Travolta -- to "come out".

"Come out! Come on," she says. "How many masseurs have to come forward? Let's do this."

She later apologized for her gaffe via twitter; writing, "Made a thoughtless comment about John Travolta. I sincerely apologize. Nobody's personal life is my business."

On a lighter note, the actress says that she'd most want to have dinner with none other than Albert Einstein.

"[He] was always on that 'dinner list' for me—just because of the facial hair," she jokes.

"I just started working with the International Rescue Committee, which Einstein founded with his friends," she says, more seriously. "He had such a complicated relationship with something he was so good at, and had a huge moral dilemma. I'd just love to have known what it was like to be him and to have to make those decisions."

Check out more pics of Rashida at Flaunt.com and in the October issue.

The title of her feature, "Tongue Tied and Twisted", isn't a reference to the Pink Floyd song "Learning to Fly" -- check out the video below to see the why it fits...