Rascal Flatts Starting Their Own Clothing Line (Pics)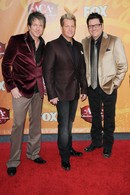 Country superstars Rascal Flatts are branching into the world of fashion by designing their first clothing line.

The trio, comprised of Gary LeVox, Jay DeMarcus and Joe Don Rooney, is teaming up with stylist John Murphy to debut their first ever collection.

DeMarcus explains, "We're right now in the design phase, but it's definitely something we want to do. (Murphy) has come up with some concepts and some lines that are individually unique for the three of us.

"We're really excited about the possibilities and we've just now started pitching the ideas to some different kinds of partners that would make sense for us to implement this (sic)."