Rascal Flatts Singer Gary LeVox Writes Tribute Song To Caylee Anthony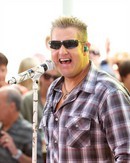 Rascal Flatts star Gary LeVox has written a musical tribute to slain Caylee Anthony, after her mother was found not guilty of her murder.

Like many Americans, the Life is a Highway singer was stunned by the not guilty verdict in a Florida courtroom last week - and it inspired him to pen a tune for the tragic little girl.

The untitled track features the lines, "Too young for a life to be taken, she's going places/She's safe in the arms of God's good graces," and "She was just a baby, barely 2 years old/A story that shouldn't have to be told."