Rare Superman Comic Book Sells At Auction Days Before 'Man Of Steel' Hits Theaters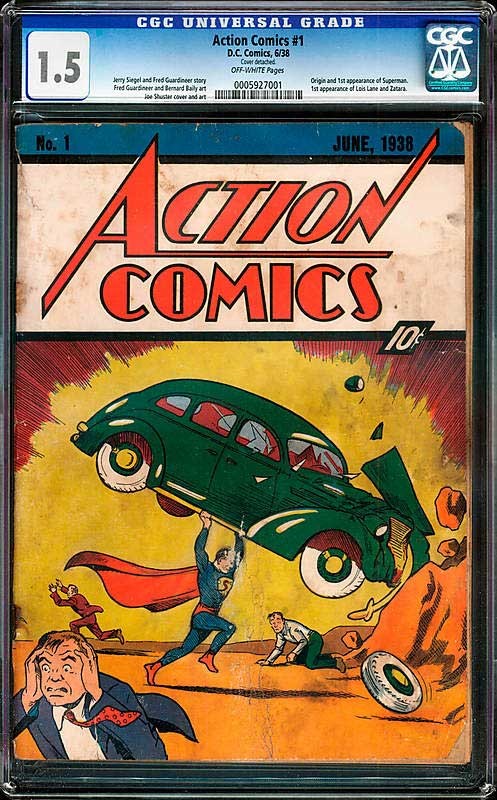 A rare copy of the very first comic book that ever featured the Superman character -- Action Comics No. 1 -- sold at auction for $175,000 on Tuesday, just days before Man of Steel opens in theaters.

The comic book, published in June 1938, was found in the wall of a home in Elbow Lake, Minnesota, by contractor David Gonzalez, who discovered it among a bunch of old newspapers being used as insulation in one of the building's walls.

Gonzalez came upon the comic while tearing down one of the walls during a renovation project in the home, which he and wife Deanna bought for $10,100.

Unfortunately for Gonzalez, the comic was damaged after the back cover ripped during an argument with one of his in-laws, decreasing its value.

"They got all excited and tried to take it," he told the Minneapolis Star Tribune. "I understand it's something cool, but told them: 'You don't have to act so rude. I brought you in to show you, don't grab it.'"

New York City auction house ComicConnect co-owner Stephen Fishler told the paper that the incident took thousands off the potential sale price.

"That was a $75,000 tear," he said. Fishler's site handled the sale of the comic to an unknown buyer.

"I knew it was worth money," said Gonzalez, who will only receive about 50% of the sale price. "But I had no idea how much."

A near-mint copy of the comic, owned by actor Nicolas Cage, was sold in 2011, fetching a record $2.16 million. Fewer than 100 copies of the comic remain in existance, according to estimates, and far fewer are believed to be in decent enough condition.