Raquel Welch Suffers Finger Injury On 'CSI: Miami' Set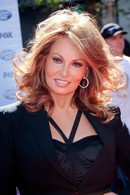 Screen icon Raquel Welch is reportedly nursing an injured finger after an onset fall while filming a guest appearance on hit TV series CSI: Miami.

The actress, 71, was having trouble trying to walk across a cobbled driveway in her high heels in between scenes for the crime show, which was being shot in Manhattan Beach, California.

A heavyweight production assistant spotted her struggle and offered to help. Welch graciously accepted, and the unnamed crew member picked her up and began to carry her across the path.

But, according to the National Enquirer, the assistant tripped and fell forward, dropping Welch and accidentally landing on top of her.

A source tells the publication, "Raquel was in pain and complained that her hip and hand hurt. She thought she'd broken a finger. Meantime, the poor guy's elbow was all cut up and his leg was badly skinned."

Welch was not seriously hurt and decided the show must go on - refusing to seek treatment.

The insider adds, "The doc determined she'd just jammed a finger, and her hip seemed to be all right. Although he wanted to take her to a hospital to be X-Rayed, she refused."