Rapper Yo Gotti Wanted By The Police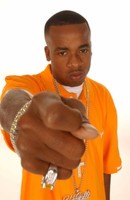 Rapper Yo Gotti is a wanted man after police in Memphis, Tennessee issued a warrant for his arrest in relation to a shooting in the city last month.

The hip-hop star, real name Mario Mims, is said to have been involved in a verbal altercation with a pal, OG Boo Dirty, on November 29th when a third man became involved. A fight is alleged to have broken out, resulting in a shooting which ended with up to six people being injured, according to AllHipHop.com.

Memphis police are eager to talk to Mims, who is reportedly away from the city for business reasons, but the star's lawyer, Art Horne, insists the rapper will fully co-operate with officials.
Horne says, "He just wanted his fans and the public to know that... he doesn't condone that type of behavior, and that again, he plans to deal with the charges that have been filed against him. Once he comes back and deals with the allegations, I think his name will be cleared."