Rapper RZA Joins Quentin Tarantino's 'Django'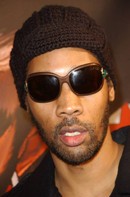 Wu-Tang Clan rapper RZA has joined the cast of Quentin Tarantino's gritty new western Django Unchained.

It won't be the first time he and Tarantino have worked together - the hip-hop star helped create the music for the director's Kill Bill movies.

RZA will join Leonardo DiCaprio, Samuel L. Jackson, Jamie Foxx, Don Johnson, Kurt Russell and Kerry Washington in the slave drama.