Rapper Rick Ross Wins Legal Battle Over Name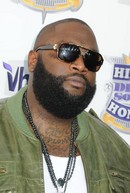 Rapper Rick Ross has won the right to keep his stage name following a long-running legal battle with former crime king Ricky Ross.

The former cocaine trafficker, who became infamous for running a drug empire in Los Angeles in the 1980s, filed suit against the rapper in 2010, alleging he infringed a trademark by changing his name from William Leonard Roberts II to Rick Ross.

The suit was dismissed in November, 2010 after a judge at California's U.S. District Court ruled that Ricky Ross' illegal activity made it impossible to determine if he had "valid trademark for his name".

The ex-convict appealed the decision and dragged the "Aston Martin Music" hitmaker back to court, but the case was thrown out of the L.A. County Superior Court on Thursday, according to TMZ.com.