Rapper Nate Dogg Dies At 41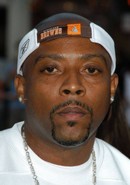 Rapper Nate Dogg has died at age 41. 
Snoop Dogg's cousin - real name Nathaniel Hale - passed away on Tuesday following a lengthy battle with numerous health issues, reports the Long Beach Press Telegram.

Hale, whose cause of death is not yet known, suffered a series of strokes in 2007 and 2008, which left him paralyzed down the left side of his body.

His pal Warren G appealed to fans in November asking them to help contribute to the star's medical costs as he underwent a lengthy rehabilitation process to regain the ability to walk and talk.

Hale rose to fame with Snoop Dogg and Warren G when they formed group 213. Dr. Dre heard their demo at a house party in Long Beach, California and signed them to Death Row Records in 1993. Hale also appeared on tracks with stars including Tupac Shakur, Mark Ronson and Eminem.