Rapper Lil' Fizz Sued Over Illegal Marijuana Store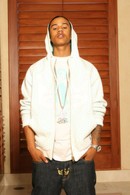 Former B2K rapper Lil' Fizz is facing a $1.7 million lawsuit from officials in California for allegedly opening a medical marijuana store in an unauthorized part of Los Angeles.

Authorities claim the Uh Huh hit-maker, a business partner in Little Amsterdam in West Hollywood, is operating a drug dispensary in a prohibited zone, and they have slapped the store owners with fines of $2,500 for each day the place has been open - the store launched on July 1st, 2010.

Officials are now seeking to have the venue shut down and they have filed suit in Los Angeles County Superior Court, demanding the star, real name Dreux Pierre Frederic, and his associates also cover the case's police costs and legal fees, according to TMZ.com.

Marijuana was legalized for medical use in California in 1996.

R&B group B2K split in 2004.