Rapper Birdman Sued Over Bogus Las Vegas Concert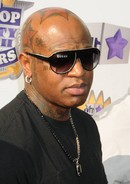 Rapper Bryan 'Baby' Williams has been caught up in a legal battle over an allegedly bogus concert deal in Las Vegas.

Lil Wayne's mentor, also known as Birdman, was reportedly booked by promoter Lana Fuchs and her company Billionaire Mafia LLC to play at Sin City's Club Eve on Wednesday.

Fuchs claims she negotiated the deal with lawyer Philip Brutus, who said he represented Williams and rap sensation Nicki Minaj. She handed over $50,000 as an advance and was due to pay an additional $25,000 following the gig after receiving a contract thought to have been signed by the hip-hop mogul.

However, Williams insists he did not agree to the show and dismissed Brutus' claim that he was the star's attorney. The planned concert did not go ahead and now Fuchs has filed suit in a Las Vegas court.

The legal papers read: "Birdman had stated that he never signed the agreement in question, but it appears that his signature on the agreement appeared to be not Birdman's, but forged signatures."

Fuchs has named both Brutus and Williams in the lawsuit, despite the rapper denying his involvement in the deal. She is suing for $75,000 in damages, in addition to lost profits and other compensation, reports AllHipHop.com.

Williams isn't the first artist connected to Cash Money Records to be targeted by bogus promoters - Wayne, Drake and Minaj have all been forced to distance themselves from false claims of representation.