Rapper Big Sean In Court For Sexual Assault Charges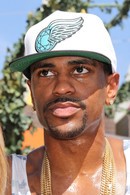 Kanye West's rap protégé Big Sean is facing trial over charges of sexual assault stemming from an arrest last month.

The hip-hop star, real name Sean Anderson, was taken into custody with companion Willie Hansbro over an encounter with a female fan following a concert with Wiz Khalifa in Lewiston, New York.
The two men, who were freed on $500 bail, are accused of forcible touching, unlawful imprisonment and sexual abuse.

They appeared in court in Niagara County Court on Tuesday, when the judge issued a gag order on the case because the alleged victim is just 17, according to AllHipHop.com.
 
Anderson and Hansbro are due to return to court on October 11th.

The two suspects have yet to enter their pleas, although Big Sean's lawyer, Scott E. Lemon, has already dismissed the charges, insisting, "Both men were charged with misdemeanors and they both vehemently deny the allegations. I am confident, that after further investigation, both men will be vindicated."