'Rango' Comes To Blu-ray & DVD Friday, July 15

"An animated comedy for smart moviegoers" (Roger Ebert, Chicago Sun-Times) that is "like nothing you've ever seen" (Peter Travers, Rolling Stone), the hilarious and imaginative Rango saddles up in a Blu-ray/DVD Combo pack with Digital Copy and on standard DVD on Friday, July 15, 2011 from Paramount Home Entertainment.
The incomparable Johnny Depp voices Rango, a chameleon living as an ordinary family pet who dreams of being a fearless hero and is challenged to become just that when he inadvertently becomes the sheriff of a lawless desert town called Dirt.
Directed by Gore Verbinski, the visionary behind the Pirates of the Caribbean franchise, Rango delighted audiences of all ages, earning more than $230 million worldwide. The film also features the voices of Isla Fisher, Abigail Breslin, Ned Beatty, Alfred Molina, Bill Nighy, Harry Dean Stanton, Ray Winstone and Timothy Olyphant.

The Rango Blu-ray/DVD Combo with Digital Copy features both the theatrical version of the film and an extended cut including a never-before-seen alternate ending, a two-part, in-depth exploration of the groundbreaking filmmaking process, deleted scenes, a look at the real creatures of Dirt, an interactive field trip to Dirt and more.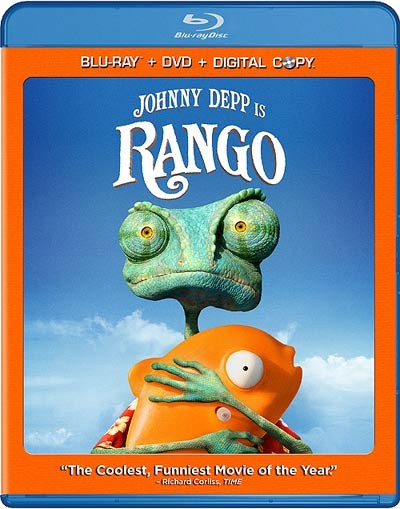 Click for more great Johnny Depp pictures: