Randy Travis Collapses At Benefit Concert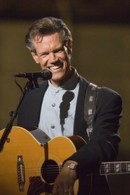 Country star Randy Travis is recovering at home after passing out onstage at a benefit concert midway through a song on Sunday night.

The "Whisper my Name" singer, 52, collapsed while he was performing the song "Three Wooden Crosses" at the Huguley Memorial Medical Center in Fort Worth, Texas.

Doctors, who were among guests, treated him at the scene and diagnosed Travis with laryngitis, caused by medications he was taking to control his chronic allergies.

Travis eventually stood up and walked offstage, giving gala guests the thumbs up as they applauded his recovery.

The singer's manager, Jeff Davis, has confirmed that Travis is "all right," telling Chron.com, "He had a bad reaction to some allergy medicine he took earlier in the day; it had some decongestant in it. The doctors said a cup of coffee and the decongestant combined (to cause the collapse) and it was one of those weird things."