Randy Quaids' Extradition Request Denied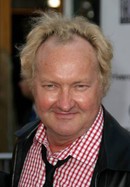 A request to extradite Randy Quaid and his wife Evi to America from Canada has been turned down.

The couple left the U.S. last year after officials in California issued a warrant for their arrest on charges including trespassing and vandalism after they were found living in the guest house of a property they formally owned.

The Quaids later turned up in Canada and applied for refugee status, claiming they were being persecuted by "Hollywood star whackers," and Evi, whose father is Canadian, was subsequently granted citizenship.

Officials at the district attorney's office in Santa Barbara County, California pursued the matter and filed an extradition request with the U.S. Department of Justice (USDOJ), but it has now emerged the request has been denied.

District attorney Joyce Dudley says in a statement, "In declining to seek extradition, the USDOJ noted the resource intensive and lengthy process involved in seeking extradition from Canada. They further stated that extradition is generally reserved for more serious offenses."

Dudley also warned the warrants remain active and the couple will be arrested if they return to their native country, adding, "Should the Quaids return to the United States, they will be arrested."